John Smart Architects create a residential redesign of a Victorian Manor outhouse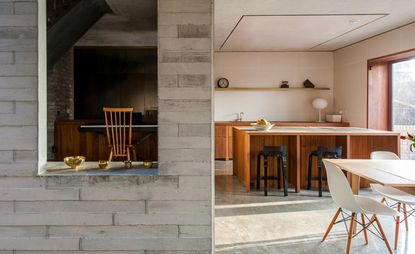 (Image credit: press)
For architect John Smart, living in one's own creation can be 'a bit like living in a hall of mirrors.' Daunting as this might seem, there are also strong advantages there. 'Coach House always wags its tail when the family's back home', he says.

The Coach House in South London is a contemporary family residence, replacing an existing Victorian Manor outhouse. The architects were keen to recreate and reference features of the site's original agricultural heritage whilst still introducing modern touches and a rich palettes of natural materials to create contemporary, comfortable living spaces.
Take an interactive tour of Coach House
The house spans three storeys and responds intelligently to the slope of the site, with a front entrance at ground floor level and connection to the rear garden from the lower ground floor. A dramatic double height space, lit by full height glazing, opens up the heart of the house allowing an angled iroko stair to rise up to the overlooking library mezzanine. Living space is split between the top and bottom levels, whilst three bedrooms are sandwiched into the middle (ground) floor, with a guest room tucked into the floor below.

Through careful integration of rooflights and a 'light chimney', interior spaces are softly illuminated and attention is drawn upwards to the distinctive pitched roofs. Iroko timber is again selected to form a modern display of angled rafters, producing a fashionable reinterpretation of a traditional 'Great Hall'.

Material variations produce a range of atmospheres around the home: white larch lines the top floor study to form a bright space for work; the bedrooms are finished with natural plaster walls and hardwood floors for a restful, comfortable ambience; poured concrete, grey Petersen brick and antique brass cultivate a more earthy, homely feeling on the lower ground floor.

From the cosy brick fireplace rising up through the living room, to a specially designed display shelf beside the stair, each architectural decision has been cleverly detailed to act both functionally and aesthetically. The sunken courtyard on the lower ground floor is planted to resemble a patch of woodland, whilst also allowing daylight to trickle in. With bespoke features throughout and a conscientious use of 'in-between' spaces such as corridors and landings, John Smart Architects ensure a design that maximises each space, making for an ideal family home.