Beach chic: Venetian vibe meets modern take at Australia's Deepwater House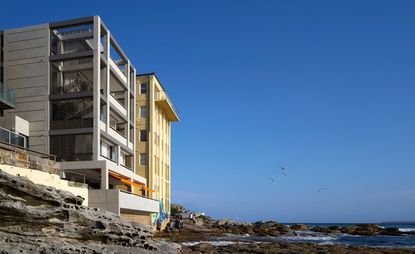 (Image credit: press)
Inspired by the urban waterside dwellings of the islands of Veneto in Italy, Paddington-based Tobias Partners Architects were tasked with the challenge to encapsulate the Venetian vibe in this concrete-clad modern beach house overlooking Bondi Beach in Australia.

After living in a classic Neo-Georgian home for the past 25 years, the clients, a couple in their 60s, were looking for a new and contemporary home; one, which allowed them to have groups of friends and family over, while also playing host to their extensive collection of treasured possessions, acquired during their lifetime of travels.

Their new home, which is perched on the rocky shores of Bondi, sits in harmony with its surroundings, but also keeps the hustle and bustle of the surrounding area from entering the home. 'The clients wanted to embrace that, but they didn't want a beach house specifically. Knowing that Bondi is busy, vibrant and urban, they wanted an interior that was quiet and zen-like, that would be calming', says Nick Tobias, lead architect on the project and founder of Tobias Partners.
The minimalist interior leaves nowhere to hide when it comes to details and finishes, so the architects ensured everything was made using the best, expert craftsmanship; high quality joinery exists alongside bespoke cabinetry, hand made bricks, and custom made window frames and doors. Each of the home's five spacious floors are treated uniquely. The bedrooms are deliberately compressed in height for a more intimate atmosphere, but are more sparsely furnished. This is in direct contrast to the more public living area - placed closest to the shore - which is 'richly decorated' and intended to be warm, homely and inviting.

Taking the client's considerations in mind, the house can be ingeniously divided into two separate apartments. Each one has its own defined entrance allowed by the addition of a 'timber-batten' folding screen in the main entrance. The open-tread staircase, which runs through the property, enhances the flow of light and air highlighted by the serene material palette, which creates a seamless transition throughout the different rooms of this warm and comforting seaside home.
INFORMATION
For more information, visit the Tobias Partners website