Interactive floor plan: Clapham House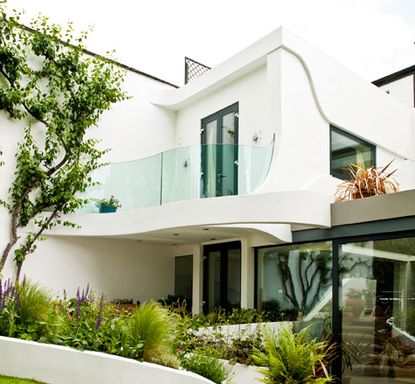 (Image credit: press)
Alex Haw and Friedrich Vitzthum of East London practice Atmos Studio (opens in new tab) gently trained the house from its core outwards toward the undulating 90 sq m garden, creating a two-way flow that merges the luxurious common areas with the lush outdoors. It's as if their hands were guided by Georgia O'Keefe, but without all her southwestern colour: here it's just white, natural parquet and raw concrete.
The organic flow breezes in from the garden and up the staircase, its branch-like balustrade echoing art nouveau, but with a decidedly contemporary twist. The skirting boards, made from decorative wood strips, resemble hungry roots that climb over doorways like cornicing. Lightwells and skylights carry the open sky into more sheltered spaces. And where there is little natural light, slots in the ceiling conduct an artificial glow from room to room.
It all seems very fanciful, yet those flourishes have purpose. Walls with curved tiers like strata always open up towards a light source. In the study the strata form library shelves and a desk looking out a floor-to-ceiling window. A granite kitchen countertop streams out past the rear window into the garden, where the owners use it in the summer for potting.
It's as if the entire house runs on photosynthesis. We can only dream.
ADDRESS
Mallinson Road
London