Interactive exhibition at Procuratie Vecchie in Venice encourages coexistence and collaboration
Generali Group opens interactive exhibition 'A World of Potential' in the restored Procuratie Vecchie in Venice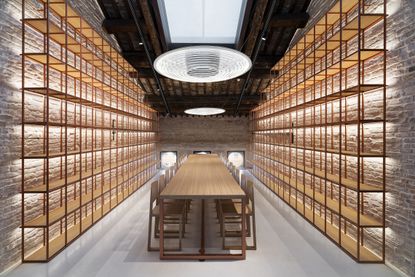 (Image credit: Andrea Martiradonna)
A new interactive exhibition has been developed by The Human Safety Net Foundation, part of the Generali Group, in Procuratie Vecchie, its 500-year-old heritage building headquarters in St Mark's Square, Venice. Launching during the Venice Architecture Biennale 2023, 16 installations and the surrounding spaces have been designed by architecture studio Migliore+Servetto. The considered interiors reflect the foundation's aims of collaboration, supporting vulnerable families with young children and providing assistance to refugees.
Inside the interactive exhibition at Procuratie Vecchie
Spanning approximately 3,000 sq m, the spaces 'focus on inclusion and accessibility in equal measure – central themes in the development of the project', say the studio's Ico Migliore and Mara Servetto. Migliore+Servetto worked to establish an interior scheme and family-friendly exhibition that doesn't dominate or interfere, but works with the existing structure, which has been recently restored by David Chipperfield Architects Milan.
A continuous run of arches flows naturally from the exhibition through to the library/café and beyond. Furnishing such as the bespoke suspended shelving system highlights the brickwork detail rather than distracts from it. Lighting, too, has been designed not to obscure the fabric of the building by employing a combination of treatments, which include floor-mounted fittings, track lighting and suspended linear units.
The company's private co-working space known as 'The Hub' hosts furniture designed to encourage collaboration and then there's 'The Hall', Generali Group's state-of-the-art auditorium designed for international symposiums, congresses and events.
'Art and culture allow us to get to know ourselves better, so the new home of The Human Safety Net and its interactive exhibition space are based on this fundamental concept,' say Migliore and Servetto. 'The result is a space designed to welcome the viewer in an empathetic way, with different rhythms and times, reinterpreting key symbols while making a constant reference to materials, design and environments. Within this, the richness of Venetian culture and territory remains a wide-ranging heritage to draw from and echo within the Procuratie.'
Visitors can go back in history with a 'Time Telescope' installation that encourages them to explore famous Venetian landmarks such as Giudecca, Rialto Bridge, Arsenale, Burano and Murano in 3D as they would have been in the 16th century.
The chosen materials and the shapes employed celebrate the Generali Group's Venetian heritage and the Procuratie Vecchie's enviable position. The wave-like form of the reclaimed timber benches in the café reflect the ubiquitous waterways, while glass is used in the accompanying tables – softened by an orange hue. The tables can be raised and lowered so visitors can come together in the spirit of collaboration. Low-level porthole windows offer glimpses out to the famous square establishing a continuous reconnection to the heart of Venice.
'A World of Potential Interactive Exhibition' at Procuratie Vecchie, Piazza San Marco, 107, 30124 Venezia VE, Italy
Open daily from 10am to 7pm from 1 April to 31 October
10am to 6pm from 1 November to 31 March
Closed Tuesdays