Threefold Architects' terrific transformation of a London terraced house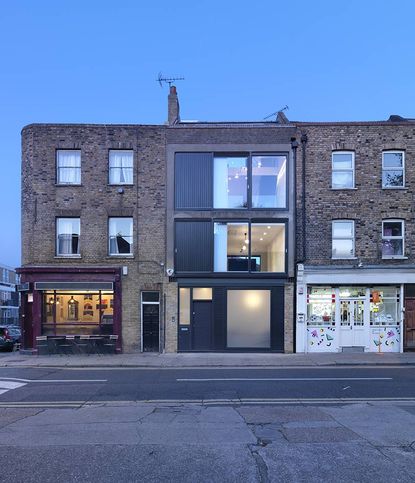 (Image credit: press)
When enlisted for the interior overhaul of a terraced four-storey property in the heart of London's Redchurch Street conservation area, Threefold Architects knew they had a challenge in their hands, describing the original space as 'crowded and claustrophobic'. The result was Fissure House, a bright and open family home, which takes its name from the dramatic vertical void (or 'fissure') that runs internally along one side of the property.

Previously inhabited by a photographer, the old structure's interior was cramped and closed off, with no external access. The new owners, a small family, tasked the architects with transforming it into a highly functional, bright and contemporary living space. Threefold duly obliged, completely reworking the structural and architectural program of the home to create an open and sunlit interior, equipped with terraces on three of its four levels.

The house's defining feature is none other than the aforementioned void. The vertical element greets guests when they enter the property and sets the tone for the whole project. Light floods in via little glass panels scattered on the higher floors, which also provides little viewing windows that provides sneak peeks of visitors as they climb though the building's social spaces.
Take an interactive tour of Fissure House

The master bedroom, main bathroom and a slightly smaller secondary bedroom sit on the ground floor, shielded from the street by a frosted glass panel that ensures privacy for the residents. Living spaces are spread across the floors above.

The architect's choice to flip the conventional residential program on its head allowed them to play with the interior arrangement more. For example, there is an influx of light via the home's series of staggered interior balconies, which were created by cutting back each of the floor plates on the upper levels. On the first floor the kitchen and dining area can be found, while the second level houses the livingroom and the third and final floor is a cosy office space.

Architects and clients worked together on the interior atmosphere, opting for details that remain sensitive to the site's heritage, such as exposed brick, locally sourced brass fixtures and custom joinery composed from Valchromat – a material similar to MDF, but coloured through, so that it allows for flawless milled detailing in the bespoke cabinetry.
INFORMATION
For further information, visit Threefold Architects' website