Kyoto soba confectioner launches store in wooden machiya townhouse
A celebrated Kyoto soba confectioner and restaurant, Honke Owariya, offers a custom-built outlet for its sweet treats courtesy of Osaka-based designer Teruhiro Yanagihara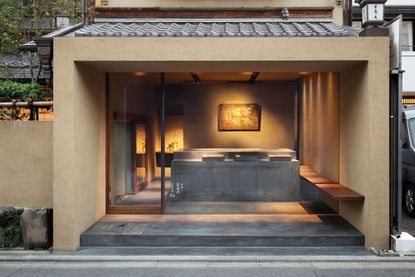 (Image credit: Takumi Ota)
Wallpaper* Newsletter
Receive our daily digest of inspiration, escapism and design stories from around the world direct to your inbox
Thank you for signing up to Wallpaper. You will receive a verification email shortly.
There was a problem. Please refresh the page and try again.
The street view of Honke Owariya, widely regarded as Kyoto's oldest soba confectioners and restaurant, reflects a peaceful collision of past and present. On the left, a split noren curtain leads into a 19th century wooden machiya townhouse with sliding paper screens and tatami floors, where soba noodles are served. On the right, a wall of glass captures a painting-like view of a minimalist interior, the contemporary lines of a concrete block counter softened by plaster walls and an artfully-lit flower arrangement in the rear corner.

The modern space, created by Osaka-based designer Teruhiro Yanagihara, is a new dedicated sweets shop within Honke Owariya, a historic Kyoto establishment whose 15th-century roots are closely entwined with the city's Zen temples. Honke Owariya is today run by 16th generation owner Ariko Inaoka, who asked Yanagihara to transform an empty bicycle parking space next to the soba restaurant. 'From the beginning, I was very excited to see how his modern and minimal aesthetics connect to the 130-year-old machiya,' says Inaoka, who is also an acclaimed photographer.
For Yanagihara, creative director of ceramics brand 1616/Arita Japan, the restaurant's long history is a thread that runs through the design. 'I thought about how to create a modern space, using traditional materials and construction methods.' Swathes of sakan plaster walls are a subtle nod to such heritage: a specialist craftsman mixed buckwheat husks (left over from making soba noodles) into the earthenware plasterwork, adding a warm organic texture to the clean-lined space.

The plasterwork connects restaurant and sweet shop structurally as well as symbolically: it smoothly flows from an exterior wall outside the restaurant into the entire framework of the sweet shop's open box-like container, where a glass façade, set back slightly, leads into the space. Inside, a solid concrete counter sits centre stage, its smooth top surface polished to expose a tactile composition of river gravel, contrasting with the sides which retain a raw industrial edge. Here, beneath an old shop sign on the wall, wooden boxes display the crafted confectionery for which Honke Owariya is famed – from soba rice cakes to melt-in-the-mouth soba warabi-mochi. The space is further punctuated by minimal strokes of black walnut door frames sharply lined with copper – materials rarely seen in traditional Japanese architecture – alongside discreetly atmospheric lighting by New Light Pottery (see W*236).

'Details are important because the space is small,' explains Yanagihara, who has also recently opened a studio in Arles, France. 'I always think about how to fuse the organic softness and hard sharpness of each material's characteristics.' Another highlight is a glass door on the side – as cleanly-cut as a picture frame – which slides open onto a walled garden of stone and moss that flows towards the machiya entrance, again connecting shop to restaurant. The nuanced layers of Kyoto's rich culture are discernible in the side door, which is notably low in height – a modern riff on the small, humbling nijiriguchi door found at the entrance of traditional tea ceremony rooms.

Meanwhile, old roof tiles, inflected with graphic motifs – a happy discovery, found buried in the garden during renovations – are laid on the floor at the side threshold. 'I was careful to smoothly connect the main historical building and the new design space by the garden and walls,' explains Yanagihara. 'I wanted to transform it into a space with a sense of tradition and innovation, integrating old and new.' Adds Inaoka: 'It's created a very special beauty that I have never seen before in Kyoto.'
INFORMATION
Receive our daily digest of inspiration, escapism and design stories from around the world direct to your inbox