Green infrastructure gets creative: where power meets sustainability
Can a solar array look sensational or a tidal lagoon educate as well as generate green power? We explore key examples of green infrastructure across the globe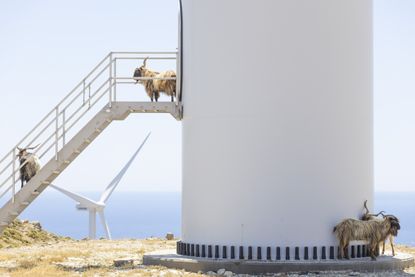 (Image credit: Nikos Daniilidis)
Wallpaper* Newsletter
Receive our daily digest of inspiration, escapism and design stories from around the world direct to your inbox
Thank you for signing up to Wallpaper. You will receive a verification email shortly.
There was a problem. Please refresh the page and try again.
Acres of silicone glister in the sun; vast blades of fibreglass scythe the sky; turbines moil in the oceans: billions are being invested in renewable energy schemes around the world as awareness of the climate emergency finally dawns and the energy crisis bites. But architects and planners are now upping the ante, striving to create benefits beyond eco-power production for this green infrastructure. 'We need to ask: how could this project work harder and bring delight?' says Alister Kratt, energy and infrastructure specialist at UK-based LDA Design. 'We need to be creative and optimistic. Can we incorporate social and sporting space, research facilities or food production?'
Spain is pioneering in agrivoltaics: a project in Totana is harvesting power from the sun along with artichokes and thyme on dual-use land. Austria's hydroelectricity plants are visitor attractions: you can trek through alpine waterfalls before zooming 600m down the face of the Schlegeis dam on a zipwire. In Iceland, aesthetics triumph. 'We were trying to create a timeless design,' explains architect Pálmar Kristmundsson of his geothermal Borholuhús plants. 'And we asked: why can't it be beautiful as well as functional?' And at Norway's Øvre Forsland hydropower plant it's all about the setting: 'We wanted it to live together with nature instead of destroying it,' architect Stein Hamre tells us. 'It should be inspiring and fascinating instead of it being an irritation.' Looking at these projects, we heartily agree.
Inspiring examples of green infrastructureRiver: Norway's Øvre Forsland
Found just south of the Arctic Circle amid snow-topped mountains and alpine forests, this hydropower station reflects the raw wilderness of northern Scandinavia. Stein Hamre Architects riff on spruce trees with an exterior of irregular wooden shards, while the interior is designed to inspire: hikers can peek inside to witness its technical wizardry bathed in multicoloured light. Meanwhile, this station powers some 1,700 homes.
Geothermal: Iceland's Borholuhús
When Reykjavik's ageing wooden geothermal stations started to fall apart, the city launched a competition, in 1996, to find sturdier replacements. Enter Pálmar Kristmundsson with a sleek retro-futuristic design: a clear winner comprising a pair of steel curvilinear walls and standing 4.5m tall, with a footprint of just 14 sq m. Eight of these beautiful plants now sit atop the city's hot-water wells, pumping 70-90°C water to heat homes across town.
Tide: Wales' Blue Eden
Floating eco-homes, a 320MW tidal lagoon and thousands of new jobs: Swansea's proposed Blue Eden project hardly lacks ambition. Led by DST Innovations, the £1.7bn scheme also features research and cultural spaces, a vast data centre and battery manufacturing. If work starts in 2023 as hoped, it could be a game-changer for Wales: the country's 800-mile coastline and 4m tidal ranges make it a potential tidal powerhouse.
Wind: Greece's Agios Georgios
Wind turbines are often criticised for marring the landscape, but this Greek scheme challenges the naysayers. Terna Energy chose the uninhabited islet of Agios Georgios, just south of Athens, for this 'onshore-offshore' scheme, landing €150m in funding in an economic crisis, and securing planning permission amid the red-tape tangle of 28 government departments. The windfarm's 23 turbines muster enough green energy for 40,000 homes.
Solar: United Arab Emirates' Mohammed bin Rashid Al Maktoum Solar Park
Could this be the future? Autonomous bus tours at this UAE solar park take in a solar power-generating road, a self-cleaning solar flower, 'smart shades' that resemble giant mushrooms and an innovation centre bristling with research and education space. Situated 50km south of Dubai, the park plans to boast a whopping 5,000MW production capacity by 2030, speeding the city to its 2050 net-zero carbon emissions target.
Receive our daily digest of inspiration, escapism and design stories from around the world direct to your inbox