Foster + Partners design a flexible home for the Buenos Aires City Hall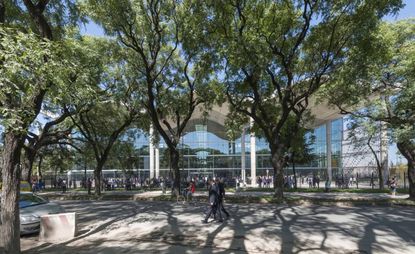 (Image credit: fosterandpartners.com)
The new Buenos Aires City Hall, located in the Argentinian capital's Parque Patricios neighbourhood, is the latest project to be unveiled by Foster + Partners (opens in new tab) in South America. Combining a cleverly functional interior with an environmentally sensitive approach, the design aims to provide the perfect home for the Mayor's office, as well as the 1,500 employees working there, while making a positive contribution to the surrounding landscape and the wider area's ongoing redevelopment.

The project presented a special challenge: it was originally commissioned as the headquarters of Banco Ciudad, the municipal Buenos Aires bank. When the end-user - and consequently the brief - changed however, the scheme was easily adapted, thanks to the building's 'inherently flexible design'. The workspaces span four storeys, featuring staggered terraces and a visible open plan desk area that promotes communication and interaction between employees. The building's full height glazing not only makes the most of natural light, but also takes advantage of its picturesque parkside location. The latter is mirrored in the interior design through the presence of leafy landscaped courtyards and elegant sheltered walkways dotted across the layout.

The exterior is defined by the building's distinctive flowing roof canopy, supported by giant pillars. A deep overhang provides shelter for the entrance plaza and protects the glass facades from the elements. Internally, the temperature is regulated with the help of the roof's concrete soffits and a chilled beam system, maintaining a cool environment even in high summer. Louvres fitted to the western and eastern façades lending a helping hand.

The City Hall building covers an entire block within a previously industrialised area, south of the city centre. While designed as a workspace, the structure was also meant to become an active part of the area's urban fabric. Apart from the office areas, it includes a cafe and a 300-seat wood-panelled auditorium, planned to house public events that will help stimulate relationships with the local community.