The ICA delves into the unique approach of Forensic Architecture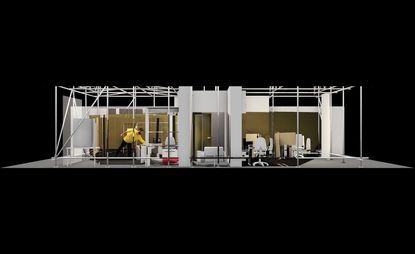 (Image credit: Forensic Architecture, 2017)
Buildings, contrary to usual logic, are not static and stable. They soak in the conditions which surround and move through them and flex, warp and deteriorate in response. They capture the traces of our movements and the lives we live in them; we wear the veneer off the floor where we usually walk through the house, and when we miss the lock with our keys it dents the paintwork. But could they also record a murder? Could examining a building after an event, just like a criminal pathologist examines a body to reconstruct the events of its demise, yield clues to a culprit? Can we interrogate a building like we do a person? Forensic Architecture proposes that we can, and a new exhibition at the ICA in London explains how.

Forensic Architecture's practice runs counter to how architects normally operate; instead of constructing or visualising new spaces, they archeologically reconstruct the ghosts of buildings and scenarios which have often been destroyed or cleaned away after conflict or violence. This visual and spatial evidence of usually isolated events — such as a murder in an Internet café— then implodes outwards to uncover the corrupt machinations of entire states. Finally, this testimony of space is then brought to bear upon consequent legal proceedings in court. But for Forensic Architecture it is not just the physical and inanimate which is put on trial, but also things as immaterial as experience, perception and the fluid spatial constructions between people.

'Counter Investigations: Forensic Architecture' is a survey of the independent research agency's work, presented through a selection of old and new investigations. Displays include cases, such as 'the racist murder of a man in Kassel, Germany by a member of a far-right group, and instances of deferred responsibility by state agencies that have contributed to the deaths of migrants at sea in the Mediterranean', explains the studio.

Their work may, on first glance, look artistic, but they only hijack the vehicle of art for its capacity to question the status quo and its ability to democratically engage with a wide audience. The work on display in this show is not art, architecture or infographics: it is evidence.
INFORMATION
'Counter Investigations: Forensic Architecture' is on show at the ICA in London until 6th May 2018. For more information visit the ICA website (opens in new tab)
ADDRESS
ICA
The Mall
London
SW1Y 5AH
VIEW GOOGLE MAPS (opens in new tab)