Flower power: 'petals' make up the new Mpavilion by Amanda Levete in Melbourne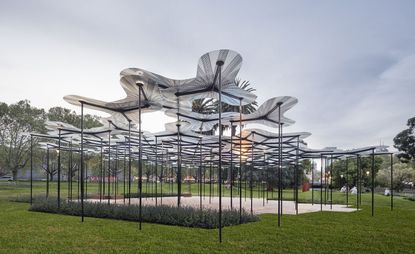 (Image credit: John Gollings)
Melbourne is recognised worldwide for its generous parklands and Royal Botanical Gardens. In the last couple of years, the southern Australian city is also gaining a reputation for its contemporary architecture, partially the result of Naomi Milgrom's (opens in new tab) drive, on behalf of her foundation, to showcase leading Australian and international architects in a parkland setting through a series of temporary structures: the MPavilion (opens in new tab).

First 'cab of the rank' was architect Sean Godsell's (opens in new tab) lightweight steel pavilion in the Queen Victoria Gardens opposite the National Gallery of Victoria. And today saw the launch of the pavilion created by London-based international architect Amanda Levete (opens in new tab), director of AL_A. 'I first met Naomi as a guest for the Melbourne L'Oreal Fashion Festival held a few years ago. The seeds were already set for this pavilion,' says Levete, who was keen to capture the lush environs of the same site allocated to Godsell (his pavilion has already moved on to another city edge site courtesy of the City of Melbourne).

Levete's pavilion, like many of her projects, started with research. One of her recent projects has been developing a suitable outdoor tile for one of the courtyards at the Victoria & Albert Museum in London. 'We always start with research,' confirms Levete, who worked closely with a Queensland-based company called mouldCAM (opens in new tab), in developing a series of 'petals' to create a lightweight canopy as one would find in a forest. The 52 resin petals, varying in width from three to five metres, are finely poised on slender carbon fibre columns, evocative of trunks. 'It's a contemporary interpretation of a forest, allowing the elements to be felt against one's face while still enjoying the protection a forest offers,' adds Levete.
INFORMATION
The AL_A pavilion opens on 6th October until Feb 7th at the Queen Victoria Gardens in St.Kilda Road Melbourne. A series of cultural events will coincide at the MPavilion.

Photography: John Gollings