Farrell Centre opens as an 'urban room' for the people of Newcastle
Farrell Centre opens in Newcastle, UK, offering a space for architecture debate and for the local people to learn more about their city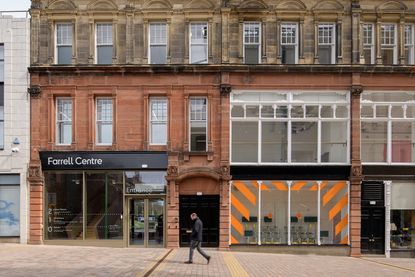 (Image credit: Jill Tate)
The Farrell Centre, Newcastle University School of Architecture, Planning and Landscape's newly opened architecture hub, seeks to return people to the heart of the often esoteric planning process. The centre has just been inaugurated by Sir Terry Farrell – a key force behind this opening – and launched to the public.
In the 2014 Farrell Review that instigated the centre, the government-commissioned report recommended that every city should have an 'urban room' where locals can go and learn about the past, present and future of where they live. Located in the Claremont Building, a four-storey Grade II-listed former department store designed by W Hope in 1896, the Farrell Centre comprises a gallery, a research hub and a community space. Its public programme will consist of temporary exhibitions, talks and workshops as well as publications, podcasts and other digital projects set to address urban contemporary issues.
Farrell Centre launches in Newcastle
A large atrium greets visitors upon entering the building. It has a reception desk and a lecture pit, which acts as a space for improvised talks, presentations and performances. A new multicoloured staircase scales the north of the building, revealing retained features, such as the original fireplaces and brick coursing as guests are guided through the building. The project was designed as a collaboration between two local studios, Space Architects and Elliot Architects, in conjunction with Owen Hopkins, the centre's director and formerly of the Soane Museum; it stands as an exemplar of the transmuting potential of retrofit.
The main gallery space is placed within four rooms, awash with light, on the first floor. They will house the temporary exhibitions. The inaugural show, titled 'More with Less: Reimagining Architecture for a Changing World', is a group show of four designers displaying how architecture can address the climate catastrophe through innovation.
The 'Urban Rooms', three multi-use spaces on the second floor, host exhibits designed by CAN and installations focusing on Tyneside's illustrious urban history. They also form a backdrop to the aforementioned programme of talks, seminars, roundtables and workshops. This space, available to local communities, is the centre's raison d'être, and is designed to adapt to their requirements. Hopkins speaks of the planning system as historically 'mitigating development' but hopes that 'the centre will spark projects that are proactive'.
For Sir Terry Farrell, this is something of a homecoming. He grew up and studied in the city, and this centre comes three decades after his masterplan for Newcastle's quayside; two after his Newcastle City masterplan; and almost ten years after he gifted his archive to the university. With Farrell having donated £1 million of the £4.6 million funding needed for the centre to be set up, this is a key part of his legacy – a place that engenders optimism for the future of cities.