Eastern promise: a new exhibition explores house design in the Czech Republic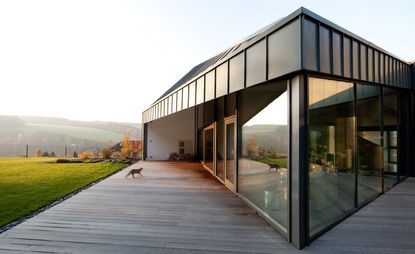 (Image credit: Olgoj Chorchoj)
Launching during one of London's busiest weeks in the design calendar, a new exhibition courtesy of the London Czech Centre offers an architectural alternative to the capital's packed schedule of September events. Opening on the 16th, 'Czech Houses' unlocks the doors to some of the country's best contemporary homes.

The exhibition, curated by Ondřej Beneš, Ján Stempel and Jan Jakub Tesař and inspired by their 2014 book of the same name, takes a look at the work of 33 local architects, presenting the huge breadth and diversity of contemporary design that has slowly been emerging across the Czech Republic since 1989. These houses range from stone and timber country retreats, to hyper-modern De Stijl-inspired cottages and Corten clad suburban pads.

Featuring architects such as OK PLAN, HŠH and 3+1, the variety of work exhibited depicts a country that has gone through significant political and social change over the years, and the exhibition captures the important role that architecture plays in expressing these fast paced developments. As the curators explain, 'in the period up until 1989, the building of family homes was suppressed; therefore the development of family homes, including their quality is a significant measure of the transformation that Czech society has undergone'.

'Czech Houses' highlights the country as a place to watch as its contemporary architecture scene blossoms. The show will run from 16–25 September at 12 Star Gallery in London; respected Czech architectural theorist Adam Gebrian will be giving a talk on the opening night.
The exhibition is curated by Ondřej Beneš, Ján Stempel and Jan Jakub Tesař and is inspired by their 2014 book of the same name. Pictured: inspired by vernacular Czech architecture, this family house in Česky Ráj by Stempel and Tesar Architects uses both wood and stone to reference the region's barns, combined with large, glazed strips that drag the design into the 21st century
The show takes a look at the work of 33 local architects, presenting a huge breadth and diversity of the country's contemporary design. Pictured: the Rusty House in Humpolec by architects OK PLAN, is a surprising twist on the more traditional rendered brick facades of its suburban neighbours. Its cladding is made of bright red Corten steel
Featuring architects such as OK PLAN, HŠH and 3+1, the variety of work exhibited depicts a country that has gone through significant political and social change over the years. Pictured: the black lines and coloured blocks of this country cottage in Vanov by 3+1 Architects hint at De Stijl, making the house stand out in its rustic surroundings. A wall made of logs on the ground level pays homage to the more traditional cottage it replace
The exhibition captures the important role that architecture plays in expressing these fast paced developments. Pictured: this house in Cikvášky by Archteam is a contemporary take on the rural barn, clad in corrugated metal panels externally, but featuring wood inside
'In the period up until 1989, the building of family homes was suppressed,' explain the curators. 'Therefore the development of family homes, including their quality is a significant measure of the transformation that Czech society has undergone.' Pictured: designed as a 3D grid composed of 24 separate cubes, this modular steel-framed family house in Beroun by HŠH architects is clad in concrete and glass panels
INFORMATION
'Czech Houses' will be on view at 12 Star Gallery from 16–25 September
ADDRESS
12 Star Gallery
Europe House
32 Smith Square
London SW1P 3EU