Dove Lake Viewing Shelter fosters meditative moments in the Tasmanian landscape
Dove Lake Viewing Shelter by Cumulus promotes love for nature and meditative moments for visitors in the Tasmanian Wilderness World Heritage Area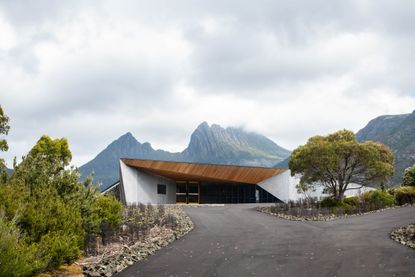 (Image credit: Anjie Blair)
Wallpaper* Newsletter
Receive our daily digest of inspiration, escapism and design stories from around the world direct to your inbox
Thank you for signing up to Wallpaper. You will receive a verification email shortly.
There was a problem. Please refresh the page and try again.
The Dove Lake Viewing Shelter by architecture and design studio Cumulus was born out of the re-appropriation of a former car park in the Tasmanian Wilderness World Heritage Area. Embedded within the island's Cradle Valley, the new structure finds a calculated balance between outstanding, contemporary design and a strategic sensitivity for its natural surroundings. Cumulus is well-versed in working with residential, tourism and commercial spaces at varying scales, and Dove Lake Viewing Shelter is exemplary of the studio's commitment to creating spaces that 'respond and contribute to our environment, leaving lasting positive legacies'.
Dove Lake Viewing Shelter echoes geological patterns
The scored exterior of Dove Lake Viewing Shelter not only echoes geological patterns created through the glacial formation of Cradle Valley, but also promotes the growth of lichen over the concrete structure in years to come. In this way, the structure cements itself as an emblem of shelter for both humans and living organisms alike, against the backdrop of extreme weather conditions endemic to the region. Project architect Luke Waldron explains: 'For us, it was important to balance a design that provided a universally accessible shelter, created a unique visitor experience, and had minimal impact to a delicate site.'
Evoking a sense of place and space
Inside, visitors are guided through a series of unadorned, minimally-lit corridors and almost-cave-like chambers. Dim LED lights peek through 'cracks' between the floor and walls, allowing the overall mood and tone of the space to surrender to the natural weather conditions outside. Waldron explains: 'The exposed interiors are deliberately void of decoration and are designed to focus the visitor's attention, slow their movement, and increase their awareness of their own impact on the delicate surrounding environment.'
The corridors lead to the main viewing chambers that reveal vast, dramatic views of the surrounding Dove Lake. Project architect and Cumulus associate Edwina Brisbane added: 'It's a contemplative space designed to mediate the external environment for visitors, not to remove them from it.'
Acknowledging Australia's Indigenous past
Etched onto one of the interior walls are the words 'Always Was…Always Will Be', a nod to Australia's Indigenous past and the Aboriginal community's inextricable connection to the Tasmanian landscape. 'The design is a recognition of the importance of the First Nations' history and cultures while encouraging people to take a longer-term view of the landscape that is much bigger than themselves,' says Cumulus director Peter Walker.
The shelter's location and positioning was the result of adhering to a series of strict regulations for before, during and after construction. Furthermore, the transformation of the original car park into the new building takes up a smaller footprint, adding an important regenerative aspect to the project, allowing nature to reclaim space around it.
Designed in collaboration with Tasmania Parks & Wildlife Service, the local community and members of the Big River Nation, Dove Lake Viewing Shelter is the manifestation of a series of well-researched, strategic and sensitive design decisions that render the new space in continuous harmony with its vast, natural context.
Receive our daily digest of inspiration, escapism and design stories from around the world direct to your inbox
Nana Ama Owusu-Ansah is a writer and photographer from London. She first wrote for Wallpaper* in 2021, in a series on the new vanguard of African designers practising in Africa and its diaspora. She is drawn to projects centring on decolonial approaches to art, architecture, as well as community and sustainability. Nana Ama read Economics and Spanish at University of St Andrews, and, as an avid linguist, is passionate about using accessible language to invite new audiences to engage in design discourse.