Diamond Rock: a Sonoma Valley house celebrates its surroundings
A Sonoma Valley house celebrates its surrounding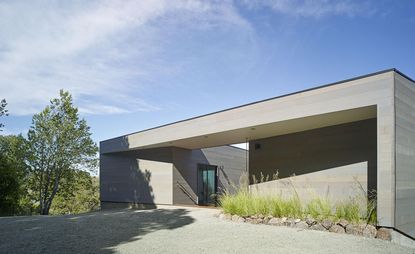 (Image credit: Bruce Damonte)
The rugged landscape above the Californian Sonoma Valley is not a frequent choice of site for new sleek and comfortable family homes, but Schwartz and Architecture have managed to turn this awkward spot into a dream location with the appropriately named Box on the Rock.

Starting with a basic rectangle, Schwartz and Architecture distorted and rearranged the shape to come up with a diamond-like geometric design. "We wanted a very abstract, sculptural and organic object", explains head architect Neal Schwartz. The result is a house that seems to respond effortlessly to its difficult site, whilst still meeting all the needs of the clients.
Take an interactive tour of Box on the Rock house


Perched above the rocky undergrowth and hillside waterways on pier foundations, the house is quite literally a box on the rocks. Whilst the grey-stained cedar wood helps the building blend in to the stony landscape, its irregular and unusual shape ensures it still makes its own mark on the surroundings.

One of the main goals was to design a site-responsive house that could show off and celebrate its cinematic location. This was achieved through the building's dramatic approach. A square cut-out entrance acts like a camera viewfinder, tantalisingly framing part of the view that is finally revealed in its entirety by a wall-length window in the living area.

As well as maximising the internal space within the necessarily small footprint, which houses any external space inside the actual structure, the geometry of the design, with its angular walls, responds to the climate in order to make the most of the sun's heat, shade and the natural wind ventilation. The house works with nature to create a comfortable living space, eliminating the need for expensive heating and cooling systems.

Two wings offer a more introverted and secluded space for the bathroom and bedrooms, which open up onto a central courtyard that provides a sheltered outdoor space against the area's extreme microclimate. The projecting wings are connected by a bridge-like living area that bulges outwards as if to touch the beautiful landscape. To combat the uneven site, the architects designed a cantilevered terrace, creating a sense of movement and emphasising the idea of the house balancing precariously upon the rocks and boulders.

By quite literally thinking outside of the box, Schwartz and Architecture have designed a building that works with, rather than against, its powerful surroundings, perhaps even improving on an already spectacular setting.
INFORMATION
Photography: Bruce Damonte