Melbourne's Cornerstone House creates modern beauty out of rough materials
Stone, black steel, exposed brick and charcoal timber make up the material palette of this Melbourne home designed by Splinter Society Architecture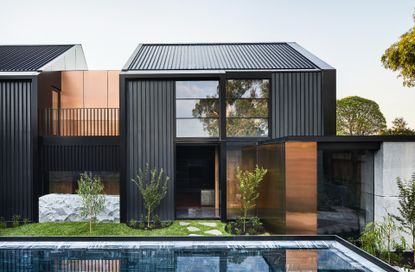 (Image credit: Sharyn Cairns)
Two robust monoliths guard the entrance of Cornerstone House, which ushers in a new Stone Age for residential design with its succession of brusquely honed boulders positioned throughout the interior and landscaped garden. 'It's an ode to rugged beauty inspired by the project site itself, referencing the quarries that once typified the area,' enthuses Chris Stanley, director of Melbourne-based Splinter Society Architecture, of the build's founding elements in the city's Northcote suburb.

Craned onto the block, with the two-storey structure built around them, the rocks exist in a rough-hewn state (bar markings from industrial tooling) as though mined from beneath. Referencing the house's namesake, they articulate foundational and key aesthetic elements: interior partitions, joinery, flooring, landscaping, and even furniture in the form of a finely shaved outdoor table slab.

Harmoniously balancing the heft and substance of the natural, split-faced stone with rigorous tailoring and tapered refinement, a ribbed fabric of black steel cladding and vertical fins located on the entrance façade tautly stretch over the family home, rising to angled peaks above modular bases. Within this carapace, incorporations of natural light relieve surface density, permitting 'a subtle sense of ornamentation' via shadow work, notes Stanley, citing the client's preference for a low maintenance, robust home that didn't require objects to decorate it.
The outlines of charcoal timber slats and fine steel handrails enabled by a seven metre long skylight animate the walls and polished concrete floors with lithe pattern-play. Another skylight located above the fireplace 'washes down the black granite wall,' adds Stanley, highlighting the texture of its linear-sawed and chiseled features. Other clever utilisations of natural luminance include the upper level lightwell and balcony stationed between the children's bedrooms, which enables a steady stream of sunshine to the pool and garden beneath.

Copper metallic finishes conduct a sense of warmth within with their rosy tones, as do timber-clad bedroom walls, plus a 12-seater custom recycled timber dining table, seemingly slicing myriad vertical rhythms with its horizontal mass. Further teasing the inert and animated tensions at play, the sinuous curve of the roof above the lounge and dining spaces appears to float upon glass. Combined, they grant the living area an air of calming decompression, whilst drawing views of the landscaping within – from the curved walkways and crazy paving, to the amoebic carpets of grass and ripples of the pool that marry the teal sheen of the velveteen lounges.

'We had a lot of freedom with the design,' reflects Stanley, noting one key mandate was equipping the home with good bones for entertaining. Leaving no stone unturned, integrated technology even includes concealed multi-coloured LED strips enabling the entertaining zones to be switched into party mode.
INFORMATION