Into the labyrinth: the G+Maze experience opens in Shanghai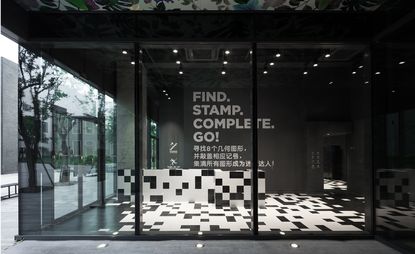 (Image credit: Coordination Asia)
Since opening in 2011, Shanghai's G+Park has been rapidly expanding, offering guests a plethora of activities and exhibits centred around the art, design and manufacturing of glass. The newest addition to the museum park is G+Maze, a challenging puzzle experience which aims to up the ante by providing visitors with a new level of interactive fun.

Designed by interiors firm Coordination Asia, the maze is composed of 318 layers of panels fashioned out of clear, black and mirrored glass, hindering its visitors' navigation with its dark and moody atmosphere and seemingly endless reflection of LED lights.

Hoping to hook a more mature demographic, Coordination Asia opted for a dark, sophisticated aesthetic. 'We wanted to create a playground that still fits the G+Park world. We didn't want it to be like other mazes where everything looks the same – the use of glass and mirrors make this a different experience entirely,' explains Tilman Thürmer, Coordination Asia's founder.

Not just your average puzzle, the G+Maze offers visitors a real challenge, a perfect fit for the most avid of problem solvers. The Stamp Game, also available as part of the experience, provides each participant with a blank sheet, eight geometric shapes and the task of spotting them within the maze. On discovery, players must mark their card with the correspondingly shaped stamp via a large press. They are presented with a certificate on exit, which confirms their success.
INFORMATION
For more information, visit Coordination Asia's website (opens in new tab)