Inside artist Conrad Shawcross' house and studio in east London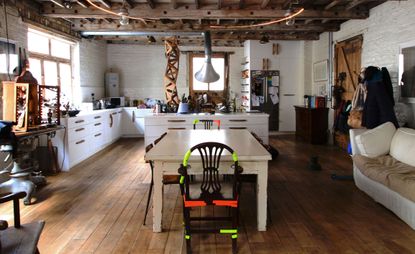 (Image credit: Richard John Andrews)
Wallpaper* Newsletter
Receive our daily digest of inspiration, escapism and design stories from around the world direct to your inbox
Thank you for signing up to Wallpaper. You will receive a verification email shortly.
There was a problem. Please refresh the page and try again.
'It's definitely a bit of a tardis,' says artist Conrad Shawcross of his working studio and family house in Hackney, which he has conceptualised slowly over 15 years. Tucked between an old four-storey building and a low terrace of houses, the land – which harboured an unlisted ramshackle Victorian shed with no street access – was purchased cheap. 'I bought it in 2007 as a ruin when this area was 'murder mile' and I never looked back,' says Shawcross. After obtaining a small alleyway off a neighbour to connect the site to the street, his aim was to make as much of the site as possible, while also preserving the history of the existing Victorian structure 'built in 1899 as a stable for horses for the number 38 bus, when it was horse-driven.'

'I was ruminating for a while on what to do with it. To fully understand a space and do something really well, an idea really takes years to evolve,' he says. Numerous sketches and a 3D model later, Shawcross enlisted one of his studio staff, a Part two architecture student at the time, Richard John Andrews to work on the plans for submission. When Andrews graduated and set up his own studio, the pair continued to collaborate.

The site has transformed over the years – in all directions. It has buried down into a basement with a modular moveable ceiling. Up into a double height studio with a huge pulley system, and out into a five-bedroom family home – for his wife and three children – with outdoor terraces, bespoke carpentry and traces of Shawcross' geometric designs everywhere, often in Corten. 'There was no way we could have got more space out of the site,' he says.

Creative resourcefulness is what this project is built of: 'When you build a house, the amount of materials that go into it is terrifying from an environmental point of view – the number of lorries that arrived... So I had this guilt about destroying it,' says Shawcross of the Victorian shed, 'but I had to build a home for my family.'

Shawcross took every opportunity to save materials from the original site and offcuts from his own work to reuse as material for the design. All the old timber and bricks from the shed were repurposed where possible. Original cobble-stones slowly transition to smooth concrete flooring, salvaged oak sleepers form a cantilevering stairway up to the first floor, and an exterior brick wall was left standing as a divider between studio and home, and a reminder of the past.
Tawny-coloured wooden doors and storage shelves line rooms and corridors: 'I work with builders who are here all the time, so a lot of it was done along the way – it happened quite naturally,' says Conrad of the timber joinery. 'I found a really good carpenter from Somerset, Rob Griffin, who was staying with us and we built all these doors – otherwise we found it all in scrap yards or bought it from wood recycling centres. All the doors were made by hand by him, unless they were already here, and he worked on the reclaimed beams.'

Shawcross also used his own studio and its tools as a resource – the Corten tiles that line the roof of the brick building, for example, were all designed, fabricated and weathered in-house. This also put the designs in the local council's good-books. '[The studio] uses metalwork, fabrication and design work all day long, and that's reflected on the outside of the building. All of the bespoke elements within the space have had the same rigour and process as Conrad would apply to his sculptures, and that was really successful with the planners and the local council,' says Andrews.
RELATED STORY
The planning permission process was consequently fairly smooth: 'What they really liked was that it was an unusual proposal – splicing an old building with a contemporary building. It was about retaining history, but also about building a family home, and a studio increasing employment. It's a Hackney success story for makers,' says Shawcross.

The studio is the busy, beating heart of the site. A vast northeast-facing skylight makes the double-height space feel like an open-air courtyard – light is diffused and constant throughout the day but never direct, says Shawcross. Here you'll find an assortment of experiments, models and art works in waiting – a design for one of the 1960s letters on the top of Centre Point auctioned for homelessness prevention charity Shelter, three models of the Dulwich Park sculpture, and a maquette of his Crossrail commission for Liverpool street station titled A chord falling into silence.

The tiled studio floor doubles up as a modular ceiling, that can be lifted up and rolled back to create a triple height space bringing flexibility to the fabrication process: 'If you want to build something 9m tall and 6 tonnes heavy, we could do it – it just has to get out of the door. The actual constraint is the gate, which is 3m wide, but you can't really put anything more than 3m wide on a lorry anyway, so it's a good constraint,' says Shawcross.
In the basement, there's a vast CNC machine for cutting organic shapes bought in an auction in Glasgow, storage and trolleys of tools. Two studio staff, Bob and Sam, are busy grinding and welding at work stations separated by plastic curtains. While in the staff kitchen, a few studio workers sit for a cup of tea at a long central table flanked with benches. Here, the flooring tiles are made of offcuts from Shawcross' work for the Royal Academy courtyard, The Dappled Light of the Sun.
'Lots of echoes of my work have gone into the building.' says Shawcross. Once you see one, you'll be able to see subtle variations of his mathematical, geometric, and often Corten, stamp everywhere. His Moiré effect pattern – seen in works such as The Optic Cloak in Greenwich – has been used to construct the front gate, while a patterned first-floor balustrade of a balcony overlooking the studio is layered with distinctly Shawcross-style motifs.

As well as artistic, the house is personal too. The master bedroom is a floating mezzanine reached by a wooden ladder in a larger space where his wife, textile artist Carolina Mazzolari, is busy at work on several creations. Climbing up to the top, one emerges to a huge wall of glazing overlooking a small terrace and a view across London – waking up here must be a special experience. 'The sunrise is perpendicular to this window – it really gets the morning light coming in. I'm not someone who likes darkness in the morning,' says Shawcross.

While the site is a mesh of history, contemporary art and personal desires built of a wide material palette of concrete, Victorian brick, cobbles, reclaimed timber and Corten tiles, the consistency lies in Shawcross' aesthetic that is present everywhere, wrapping up the architecture of the studio and house that seems to unravel and expand organically as your explore it.
INFORMATION
For more information, visit the Conrad Shawcross website and the Richard John Andrews website
Receive our daily digest of inspiration, escapism and design stories from around the world direct to your inbox
Harriet Thorpe is a writer, journalist and editor covering architecture, design and culture, with particular interest in sustainability, 20th-century architecture and community. After studying History of Art at the School of Oriental and African Studies (SOAS) and Journalism at City University in London, she developed her interest in architecture working at Wallpaper* magazine and today contributes to Wallpaper*, The World of Interiors and Icon magazine, amongst other titles. She is author of The Sustainable City (2022, Hoxton Mini Press), a book about sustainable architecture in London, and the Modern Cambridge Map (2023, Blue Crow Media), a map of 20th-century architecture in Cambridge, the city where she grew up.