Collection Lambert's new home by Berger & Berger is an inspired mix of old and new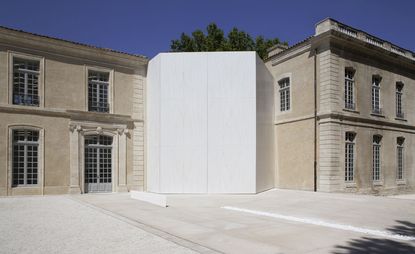 (Image credit: TBC)
Yvon Lambert started compiling his art collection in 1960. Featuring work by leading figures in minimalist and conceptual art, it soon became known as the only place in France where many of these artists were so extensively represented.

Since the turn of the century, the collection has been housed in an 18th-century townhouse in the historic city of Avignon. Following the donation of the entire collection to the French state in 2012, the museum grew, spilling over into a neighbouring mansion, Hôtel de Montfaucon. This was slated to house the permanent collection, as well as spaces for cultural events; two courtyards for outdoor exhibitions; restoration workshops and an apartment for artist residences, as well as the expanded museum shop and restaurant.

Paris-based architecture firm Berger & Berger, a team of brothers comprising visual artist Laurent and architect Cyrille, were in charge of the museum's renovation and extension. To ensure optimum conditions for the highly diverse collection, the team adopted a variety of approaches for the exhibition galleries.

Some of them are minimalist, artificially lit, 'white cube' spaces, while others boast historic design elements and beautifully orchestrated natural light. White concrete walls with marble aggregate and matching terrazzo floors feature in the atrium; a unifying diagonal pattern of light fixtures sit across exhibition spaces - everything working to enhance the quality of light for the art.

Almost completely invisible from the outside, in order to leave the heritage facades intact, three newly inserted spaces create a well-calibrated contrast with the existing architecture. An atrium with a circular skylight framed by subtly glowing neon tubes connects the two buildings and conceals a delivery door behind tall marble panels. A space for large-scale exhibits, custom proportioned to fit Julian Schnabel's 4.9 by 4.9 m 'Silencio', uses a grid of deeply recessed skylights for optimised light distribution.

Perhaps the most striking feature is the courtyard whose two blind, 8.3 m tall walls are lined with marble panels. These were obtained from a solid block sliced into 5 mm thick sheets, and arranged so that the marble veins create a kaleidoscopic pattern. The order of the sheets, as explains Laurent Berger, has been maintained to faithfully reproduce 'the progression into the stone'.

The Collection Lambert reopens on December 5 (following a short sneak preview opening during the summer) with a large exhibition dedicated to Andres Serrano, while Berger&Berger will party on December 2, as they present their first solo exhibition at the rue Visconti gallery in Paris.
INFORMATION
For more information on Berger & Berger visit the firm's website (opens in new tab)