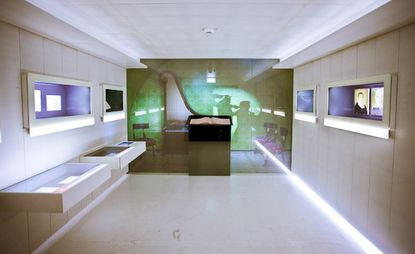 (Image credit: press)
Two Italian architects have transformed the often dreary museum experience into something radically modern at the Ostrogski Palace in Warsaw. The new Chopin Museum, curated by Ico Migliore and Mara Servetto of Migliore+Servetto Architetti Associati (opens in new tab), invites visitors to delve into the world of the Polish composer via cutting edge audio–visual and interactive technologies.
Gone are those droning tour guides and their weary troops. Instead, a special card with a computer chip using Radio Frequency Identification technology allows visitors to personalise their museum experience, ask questions and interact with the displays.
'We wanted to incorporate the best technology could offer with an experience that is very human,' explains Servetto. 'To this end, all the sounds, smells and interactive technologies have been integrated together.'
In one room, you can activate the sounds of different instruments by stepping on sensors hidden in the floor. And in the 'The Composer' room, suspended above 14 music sampling stations is a dramatic installation of translucent plates that pulse with the rhythm of a rare Chopin score.
The 17th century Ostrogski Palace has been revamped and expanded to house the museum, whose opening coincides with the bicentenary of Frédéric Chopin's birth. Migliore+Servetto - who have designed several of Wallpaper's past Milan exhibitions - have created a thrilling mix of interactive visuals and soundscapes. 'Our strength is using architecture as a tool to communicate the value of a brand or tell a story,' says Mara. She admits, however, that this project is their most technologically ambitious yet.
Visitors can choose their own path around the exhibition and each room is its own mini-museum relating to a different aspect of Chopin's life. The show culminates in a space dedicated to his death in 1849 at the age of 39. It is a soundproof black cube, featuring a lock of Chopin's hair, a plaster death mask of his face and a book featuring comments from friends and acquaintances at the time, whose pages continually turn.
ADDRESS
1 Okólnik Street
00-368 Warsaw
VIEW GOOGLE MAPS (opens in new tab)