In memoriam: César Pelli (1926–2019)
César Pelli, Argentinian-American architect, founder of Pelli Clarke Pelli Architects and winner of more than 80 awards, has passed away aged 92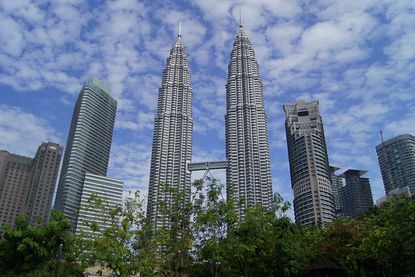 (Image credit: Artur Widak, NurPhoto, Getty Images)
César Pelli is best known for his soaring skyscrapers including the 88-storey Petronas Towers linked by a sky bridge in Kuala Lumpur, the World Financial Centre in New York and Hong Kong's International Finance Center, yet when we met late last year at his New Haven home – a modest wooden house built in 1915 – he admitted that he had always preferred to be close to ground level.

In 1991, he was named one of the ten most influential living American architects by the American Institute of Architects, who awarded him the AIA Gold Medal in 1995. In 2004, Pelli was awarded an honorary Doctor of Humane Letters degree and the Aga Khan Award for Architecture, and in 2005, he received the Connecticut Architecture Foundation's Distinguished Leadership Award. In 2008, Yale University gave him an honorary Doctor of Arts degree and the Council on Tall Buildings and Urban Habitat gave him the Lynn S. Beedle Lifetime Achievement Award. In 2012, Pelli received the platinum Konex Award for architecture and the diamond Konex Award for visual arts.
Born and educated in Tucumàn, Argentina, Pelli came to the United States with his wife, landscape and urban designer Diana Balmori in 1952 to study at the University of Illinois School of Architecture. After graduating he joined Eero Saarinen in Michigan for ten years, working on the TWA Terminal at JFK Airport in New York (pictured below) and the Moses and Stiles Colleges at Yale University. Pelli claimed, 'I didn't start getting interested in skyscrapers until I designed one myself,' and always said his greatest influence – other than Le Corbusier – was Saarinen. 'I will always remember how hard he worked. He was the most important influence in my life as an architect.'

He also said his upbringing in Argentina was especially influential in his appreciation for public spaces. 'Unlike American architects I believe that public spaces are more important than private spaces. I try not to design them as left over spaces. Outdoor spaces are important and should be alive.'

As director of design at Daniel, Mann, Johnson and Mendenhall in Los Angeles, in 1965, Pelli designed the Sunset Mountain Park Urban Nucleus, which was never built, and then in 1968 he became partner for design at Gruen Associates where he designed the Clarksburg, Maryland research and development laboratories. The first building at the Pacific Design Center in West Hollywood was completed 1975, as was the US Embassy in Tokyo. Pelli was also teaching in the architecture program at UCLA, and he perfected the technology of glass skins, producing buildings of lightweight, translucent quality.
In 1977, Pelli became Dean of the Yale School of Architecture in New Haven, Connecticut, and was commissioned to design the expansion and renovation of the New York Museum of Modern Art, which was when he started Cesar Pelli & Associates. The MoMA project was completed in 1984, as were the Crile Clinic Building in Cleveland and Herring Hall at Rice University in Houston. The World Financial Center with its Winter Garden, and the Green Building at the Pacific Design Center were completed in 1988 and, the following year, the Wells Fargo Center in Minneapolis.

Pelli was experimenting with stainless steel as his skyscrapers evolved, often surfaced in glass or a thin stone veneer. He liked abstract, crystalline glass shapes shot through with lines of coloured stone or metal.

One Canada Square at Canary Wharf in London opened in 1991, as did Plaza Tower in Costa Mesa, California. The NTT Headquarters in Tokyo was finished 1995 and, in 1997, the Petronas Twin Towers in Kuala Lumpur became the tallest buildings in the world. 'I had to get into the soul of the Malaysians and create it,' Pelli said. The next year the National Museum of Art in Osaka was completed and Pelli's firm changed its name to Pelli Clarke Pelli Architects, in acknowledgment of Fred W. Clarke and Rafael Pelli.
Then came the Cira Centre in Pennsylvania, the Adrienne Arsht Center for the Performing Arts in Miami, the Minneapolis Central Library and the Renee and Henry Segerstrom Concert Hall and Samueli Theater in Costa Mesa in 2006. Pelli continued to design office towers and developments throughout Asia, including the Tokyo American Club in 2011, and South America and, in 2012, the Red Building completed the Pacific Design Center, which Pelli had designed 40 years before. Cira Centre South was opened in 2014.

Pelli always said he wanted 'to capture the nobility of the tall buildings,' which Douglas Davis praised as 'lyrical, technically sophisticated buildings that are neither "modern" nor "postmodern".' His peers have described his work as poetic and fresh, and praised his diversity, sensitivity to site and innovative solutions to architectural problems.
In a recent interview, Pelli said: 'In my opinion, a tall building has to have a crown, it has to end on something that suggests that the building is in dialogue with the sky. It has to have a sense of trust — this emotional trust that the building is conveying to us. And how do you express that trust? That is the key to the art of architecture.' But while he understood the attraction of designing in the sky, he also cautioned against the 'distasteful' rush to create iconic skylines saying, 'It is not necessary for everything to be high, to be jostling for their place.'

Surprisingly, Pelli did not design many houses. 'They are very emotional so the few we have designed were very special. We did them because they especially captured our interest because of the owners and their approach to design.'

Architecture remained his greatest passion. 'There are many things that interest me but nothing that comes close to my love of architecture. Architecture is my life.' R.I.P. Mr Pelli.

Pelli's wife Diana Balmori passed away in 2016 and he is survived by their two sons, Denis and Rafael.
Receive our daily digest of inspiration, escapism and design stories from around the world direct to your inbox