The Bolder lodges by Snøhetta embrace a Norwegian cliff-edge view
The Bolder project comprises four elevated cabins, enveloped in a Norwegian fjord view, designed by Snøhetta in collaboration with Tom Bjarte Norland and Vipp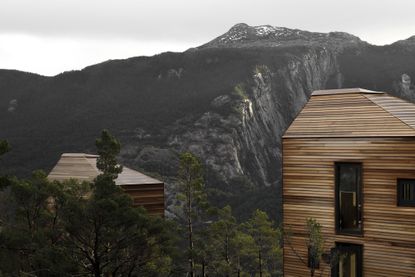 (Image credit: Photography: Elisabeth Heier and Elin Engelsvoll)
The Bolder project – kick-started in 2020 and created by Norwegian architects Snøhetta, design brand Vipp, and local property developer Tom Bjarte Norland – comprises four luxury off-grid cabins, overlooking Lysefjord on Norway's west coast and available for holidays.
Snøhetta's Bolder project is enveloped in its landscape
Each cabin appears suspended in nature, its creators taking care to minimise its footprint on the local landscape. The structures are supported by concrete pillars, which lift them above the ground and maximise panoramic views. Glass façades expose the pod-like rooms to the outdoors. Snøhetta architect Frank Denis Foray explains that 'the goal was to create a total experience for the visitors', while offering protection from the extreme outdoors, the idea of 'coming back to a cosy, warm wooden nest with a spectacular panoramic view'.
Reflecting its surroundings, the project uses materials that were cleared from the site prior to construction; granite from the ground is used as aggregate, built into the concrete pillars, and timber from the area has been used in its construction. The cabins' exterior is in red cedar, chosen for its naturally greying quality, which in time will allow it to blend more seamlessly into the landscape. Inside, oak lines the cabins, with the wood from each treated slightly differently, resulting in a distinctive feel for each space.
The cabins' asymmetrical forms work with their varying height to give an illusion of tilting slightly over the fjord, and the Vipp-designed interiors draw in the natural landscape, blurring the line between indoors and out. The design teams have used clean surfaces and simple forms to expand the feeling of the cabins. Three of Snøhetta's new cabins (which they call Stylten, Myra and Stjerna) offer around 38 sq m, while a fourth (Eldhuset) will provide 60 sq m and is expected to open in spring 2023.
snohetta.com (opens in new tab)
thebolder.no (opens in new tab)
Martha Elliott is the Junior Digital News Editor at Wallpaper*. After graduating from university she worked in arts-based behavioural therapy, then embarked on a career in journalism, joining Wallpaper* at the start of 2022. She reports on art, design and architecture, as well as covering regular news stories across all channels.
With contributions from