Blank canvas: HAT Projects rejuvenates London's Gasworks gallery and studios
HAT Projects unveils its renovation of Gasworks, a 26-year-old international gallery and subsidised artist studios in Vauxhall, London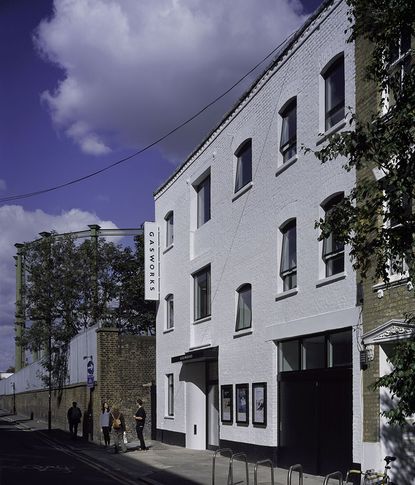 (Image credit: Ioana Marinescu)
Based in an old Victorian warehouse building in London's Vauxhall, Gasworks (opens in new tab) – a pioneering arts organisation and gallery – has been providing affordable studio space for local artists and residency programmes for international practitioners since its inception in 1994. The artist-led studios have steadfastly remained operational despite rapidly rising rents and rampant development in the surrounding area. So three years ago, when the building came up for sale, the organisation knew it was under massive threat.

Determined to secure its future, Gasworks applied for £1 million in funding from the Arts Council in order to buy the building's freehold (at £1.1 million), but more was capital needed for its much-needed rejuvenation. Donations from patrons, philanthropists, trusts and foundations flooded in while Gasworks alumni, such as Turner prize winner Chris Ofili contributed signature works for a charity auction at Christie's. 'They recognised the value that Gasworks had for them at the beginning of their career,' says Alessio Antoniolli of their generous donations, 'and they realised it was fundamental to secure space that provided that opportunity for artists to get their foot on the ladder.'

After raising the funds and securing the site, Gasworks enlisted architects HAT Projects to redesign the site.'After 18–19 years of being based here, we were very very clear in what we wanted the building to do,' says Antoniolli. 'We knew what it was here to do. We'd lived with it and we had ideas about changes.'

Building works started in February of this year and were completed earlier this month. The result is a clean, simple and serene design that has tidied the building's improvised layout but preserved original features where possible. Laid out across three floors, HAT's spatial adjustments have doubled the size of the exhibition spaces, providing a purpose-built education and events area, increasing the proportion of existing studios while also creating two new ones, a kitchen and dining space, all without extending the building or making any major structural change.

'It leaked, it had completely inadequate heating, no insulation of any sort, no double glazing and large buddleia bushes growing out of the back wall,' says Hana Loftus, director of HAT Projects. 'It's been a complete transformation.'

'The budget was pretty challenging because the building needed so much stabilisation, but actually that was nice because you're not tempted to overstep that mark between restraint and elaboration and create a space that is calm, is cool and really simple.'

Functioning like a blank canvas, the all-white, light-filled space fades into the background, letting the art, activities and interactions within the building take centre stage. Loftus concludes, 'It's so lovely to see work being made here, people occupying the space, enjoying themselves and starting to have conversations about art.'

Reopening today, Gasworks' redeveloped gallery space will play host to the first UK solo exhibition by emerging South African artist Kemang Wa Lehulere...
Housed in an old Victorian warehouse building in Vauxhall, the former gallery and studios had, over time, been developed in an ad-hoc fashion, resulting in an improvised layout and impractical working spaces. 'It leaked, it had completely inadequate heating, no insulation of any sort, no double glazing and large buddleia bushes growing out of the back wall,' says Hana Loftus, director of HAT Projects
Laid out across three floors, HAT's spatial adjustments have doubled the size of the exhibition spaces, providing a purpose-built education and events area, increasing the proportion of existing studios while also creating two new ones, a kitchen and dining space, all without extending the building or making any major structural change
Reopening today, Gasworks' redeveloped gallery space will play host to the first UK solo exhibition by emerging South African artist Kemang Wa Lehulere. Pictured: studio of Jonathan Murphy
INFORMATION
'Kemang Wa Lehulere: Sincerely Yours' is on view until 8 November
Photography: Ioana Marinescu, courtesy of Gasworks
ADDRESS
Gasworks
155 Vauxhall Street
London SE11 5RH
VIEW GOOGLE MAPS (opens in new tab)