Reinventing Shenzhen's identity and urban villages at the 2017 Bi-City Biennale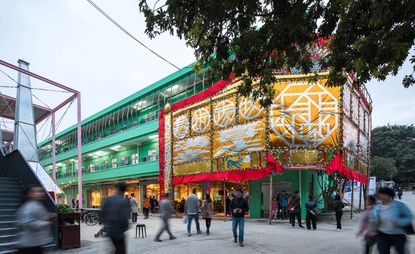 (Image credit: Zhang Chao)
'Shenzhen is the place where lots of people come to reinvent their identity,' says architect Thomas Tsang about the city which – together with its neighbour Hong Kong – hosts the Bi-City Biennale of Urbanism\Architecture, or UABB. Tsang's own contribution – an immersive installation designed to amplify the soundwork by composer and vocalist Ken Ueno – is one of the exhibition's highlights that mark the 2017 Biennale's active involvement with contemporary art.

The notions of identity and authenticity are central to this year's edition of UABB. Titled 'Cities Grow in Difference', it celebrates the city as a 'complex ecosystem' and promotes urban policies that 'acknowledge diverse values and lifestyles' rather than imposing 'globalised and commercialised standard configurations' that render cities 'homogenous and generic'.

China's first Special Economic Zone and an early testbed for economic reforms, Shenzhen saw its population grow from 30,000 in 1980 to nearly 20 million today. It is also known as the country's largest migrant city, with many immigrants finding their first accommodation in the so-called 'urban villages'.

A product of China's rapid urbanisation and the dual rural-urban land ownership system, these villages-in-the-city see farmers turn into landlords but maintain a vivid, closely-knitted and largely self-governed community, whose life is based on informal economy, local knowledge and neighbourly coexistence. According to UABB's curatorial statement, urban villages house 45 per cent of Shenzhen's population while occupying just 16.7 per cent of the city space.
This year, UABB puts urban villages – and their analogues in other countries – in the limelight as unique hybrids of tradition and innovation. Their capacity to balance chaos and order through common sense, negotiation and improvisation can hold valuable insights for the future evolution of our cities.

The biennale's main venue – Shenzhen's historic Nantou Walled City – blends the remains of the 1,700-year-old regional centre, a former industrial site and a contemporary urbanised village where 20,000 residents live on 0.07 sq km. Having placed the exhibition straight inside the context it explores, UABB's curators invited visitors to make their way through countless tiny shops and loaded tricycles that scurry through busy pedestrian streets with no space for cars.

Another innovative trait of this year's biennale is its massive engagement with contemporary art. Hou Hanru – who curated UABB 2017 together with the co-founders of the Shenzhen-based architecture firm Urbanus Liu Xiaodu and Meng Yan – was in charge of a large section called 'Art Making City', but the biennale's artistic component expanded way beyond its confines and included outdoor installations by architects Atelier Bow-Wow and MVRDV; a giant mural by the Spanish collective Boa Mistura helped by local residents, and much more.

A project by Tatzu Nishi reproduced a fragment of an asphalted road, complete with the guardrails, a car, a streetlight and a few household artefacts. The piece jutted out from the top floor of a former factory workers' dorm, as a symbol of high-speed urbanisation cutting its way through the historic fabric of the city.

Displayed inside the disused factory buildings and in various outdoor locations across Nantou, animation and documentary films, architectural anti-utopias and urban science fiction, site-specific installations and artworks using found objects complement a wealth of research-based material from China and the rest of the globe, shown in UABB's urban and architectural sections.

Intended as the world's only biennale that focuses on urban design and urbanisation, UABB used art to comment on the notions of 'street, home, public space, social production' – the issues that concern everyone yet sound too abstract if described in professional, purely rational terms. Granted direct access to our imagination and emotions, art can prove a far more efficient communication device.
INFORMATION
For more information, visit the Bi-City Biennale of Urbanism/Architecture website (opens in new tab)