High contrast: we chart Beirut's ever-changing architecture scene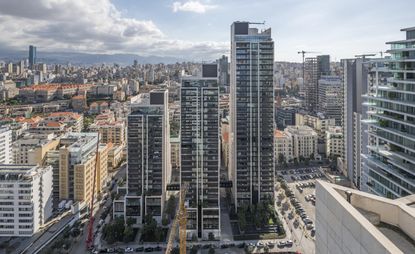 (Image credit: Nigel Young / Foster + Partners)
Beirut today is a city of beautiful and fiery contrast. The memory of the violent Lebanese Civil War (1975-1990) still haunts the cityscape in the form of bullet-riddled buildings and cavernous voids in the ground, host to either classical ruins or wartime explosions. Then there is the post-war redevelopment scene; shopping malls, clubs, luxury high-rise flats, and ambitious, large scale art museums.

Within the new Beirut city centre, a two-decade long redevelopment scheme carried out by the joint stock company Solidere, gouged-out ruins sit side by side with Souks – a luxury commercial district masterplanned by Spanish architect Rafael Moneo touting a 'new shopping experience'. Further west, glossy residential high-rises designed by the likes of Herzog & de Meuron and Foster + Partners stretch out over the highway heading to the Mediterranean, seemingly indifferent to the gigantic 'Stop Solidere' sign emblazoned on the notorious St. Georges Hotel, the site where ex-Prime Minister and Solidere founder Rafik Hariri was assassinated in 2005.
Endless processions of speeding cars and scarce sidewalks make Beirut feel aggressive on ground level, but there is magic felt amid the sweltering heat and continuous stream of French-infused Arabic; a unique cultural mash-up left over from city's history as a French colony. Accidental architectures of stacked family businesses pile up further along the coastal highway, creating a tetris-style composition of localised commercial activity. Higher uphill, the jungle-like campus of the American University of Beirut proves a scholarly oasis from the roaring metropolis below.

Love it or hate it, the Beirut Souks is fascinating in its own right, oozing a Disneyfied luxury and post-apocalyptic intrigue. Not to mention the frozen dreams of a pre-war Brutalist 'egg' (a war-damaged old leisure complex that was almost redeveloped by local architect Bernard Khoury), subterranean Roman baths and a glorious Ottoman-style mosque built in 2008. A spotless yacht club by Steven Holl, a small army of Khoury's high-tech gothic residential projects, and an art complex by Adjaye Associates are but a few of the new structures shaping the future of this thoroughly uncategorisable city, with one foot stuck in the past and the other gunning towards its hyper-commercial future.
3Beirut by Foster + Partners
Clad in Lebanon's favourite building material, limestone, the project encompasses a 10,000 sq m mixed-use scheme commissioned by Lebanese luxury property developer Sea View Properties & Construction.
Beirut Terraces by Herzog & de Meuron
The Swiss firm's first project in Lebanon looks like it could have been air-lifted straight out of Miami Beach. Conceived as a 'vertical green boulevard', tiny specks of shrubbery can (almost) be seen poking through the marble-encrusted geometric perforations decorating its stacked levels.
Beirut Terraces by Herzog & de Meuron
The design is 'literally inspired by the layers of the city's rich and tumultuous history,' according to the architects. The 116m structure, supported by columns, was completed in 2017.
BeMA by HW Architecture
The new Beirut Museum of Art (BEMA) will feature a 124m tower divided into a dozen 12m cubes as well as a sunken garden at its base, courtesy of the site provided by the Université Saint-Joseph. The winning design submitted by Parisian architecture practice HW architecture was selected by a jury including the late Zaha Hadid and Richard Rogers.
BeMA by HW Architecture
With over 3,000 works by Lebanese artists from the early 20th century to today currently in its expanding collection, it will be the country's first institution devoted to contemporary Lebanese art, once it completes in 2020.
Factory Lofts by Bernard Khoury
An appropriately dramatic building by Beirut's most expressive architect, Factory Lofts (also known as Plot #1282) is a 25,800 sq m project that contains 95 apartments, ranging from 150 sq m to 650 sq m. It opened in 2017.
Factory Lofts by Bernard Khoury
Located on the northern periphery of Beirut, a rapidly densifying area that is still largely characterised by disused industrial infrastructure and a roaring highway as backdrop, the project takes its inspiration from 1970s SOHO in Manhattan, by providing an untypical live/work space for the city's artists (complete with a freight elevator for moving large-scale art).
Modulofts apartments by Fouad Samara Architects
A newcomer to the Ashrafieh district of Beirut, the Modulofts apartments offer a high-tech morphing facade 'inspired by the purity of the traditional Lebanese house', according to the architects. Inside the seven open-plan apartments that spread out across 14 floors, residents can transform the partitioning of rooms in 16 different ways by sliding the steel panels outside the building.
Modulofts apartments by Fouad Samara Architects
As a nod to the modular New York lofts of the 1960s and 70s, projects like Moduloft point toward a morphing Lebanese aesthetic increasingly tailored toward a western eye – no doubt influenced by the international education of this new generation of Lebanese architects (founder Fouad Samara studied at the University of Bath)
Beirut Souks by Rafael Moneo
Boutique fitness centres and luxury labels from Prada to Hermès line the streets of Beirut's redeveloped 128,000 sq m core. Designed by Spanish architect Rafael Moneo with Kevin Dash, the $300 million scheme is modeled on ancient Greek city plans. The Souks is home to 200 retail spaces – many of which are in a permanent state of changing hands, thanks to ever-soaring rental fees - as well as dozens of restaurants and a cinema complex.
XISIR Winery by Raed Abillama Architects
Designed by Raed Abillama Architects, the passive design of XISIR winery is located in the outskirts of Basbina, a short drive from central Beirut. The project makes use of the 140 year-old architecture found on the site.
XISIR Winery by Raed Abillama Architects
The old feudal home merges with the factory's modern built structure, which houses 40 stainless steel tanks in which the grapes are fermented and an art gallery devoted to the joys of vintage liquor posters. Rows of cedar trees to south-east and coastal views to the south-west make XISIR a scenic daytrip away from the city; with plans for a rooptop bar in the works, the winery intends to broaden its appeal to younger crowds whose pockets and patience might not be deep enough for a sit-down meal, according to its general manager Patrick Antonia.
Issam Fares Institute by Zaha Hadid
Completed in 2014 and known as 'that weird spaceship buildin' to students of the American University in Beirut, Zaha Hadid was on full cantilever mode with this exceptional concrete beast. To better connect with the campus masterplan designed by Saskai Associates in 2002, Hadid lifted half the building off the ground.
Issam Fares Institute by Zaha Hadid
It is a dramatic and uncompromising structure appropriate for its purpose of hosting lively debates on the public policy and international relations of the Arab world
Zaituny Bay by Steven Holl Architects
Commissioned by Solidere as part of the downtown Beirut redevelopment, the massive 67,000 sq m Zaituny Bay offers a programme of luxury seaview apartments, a yacht club bordering an 'urban beach' that's peppered with site-specific art installations – as well as restaurants and more luxury shops, in case the adjacent Souks wasn't enough retail therapy.
Aishti Foundation by David Adjaye
Occupying the previous site of several warehouses, the burnt red aluminum frame embellishing this combined cultural foundation and luxury shopping centre emerges like a giant shipping container on the coastal highway to Byblos. Its 35,000 sq m facilities – costing an estimated $100 million – shell out 4,000 sq m of gallery space across five floors – the rest is devoted to the art of shopping.
Aishti Foundation by David Adjaye
On show is a rotating selection of modern and contemporary art from Aishti owner Tony Salame's private collection – so far curated exclusively by Massimiliano Gioni, director of the New Museum.