Contemporary architecture blossoms in Brussels
In our latest architectural exploration, we turn to the Belgian capital of Brussels, where a balance is being struck between new projects and the city's time-tested 20th-century gems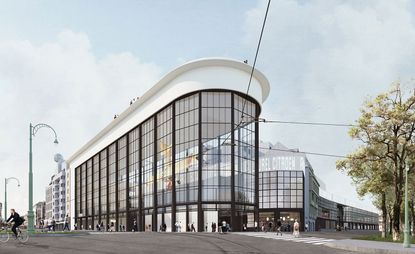 (Image credit: press)
'Boring', 'banal', 'bureaucratic' — forget the chocolates or the chips and mayo, Brexit (the biggest B-word) has left a bitter taste in the mouths of many Brits when it comes to Brussels. It doesn't help too, that thanks to social media, Belgium has become a butt of architectural jokes – the Instagram page 'UglyBelgianHouses' boasts more than 60,000 followers.

The antidote to this PR problem would be to do as other historic European cities do: fall back on its history and play up the splendour of its architectural past, in Brussels' case, pushing a Gothic, Neo-renaissance and Art Nouveau agenda.
'The city is encouraging new projects while also celebrating its 20th century architecture'
Brussels does not ignore its undoubtedly rich heritage – that would be a crime – but the city does not rest on historical architectural laurels either. Refreshingly, Brussels is now abuzz with new work, encouraging new projects, while also celebrating its 20th-century architecture (as demonstrated with the Brussels Biennale of Modern Architecture which launched in 2014), and striking an interesting balance between old and new.

A healthy mix of large and small projects are currently under way, comprising work from studios both local and international. Most of this new work is civic, while offices and new housing — none of which run the risk appearing on the aforementioned Instagram page — are also being constructed in the outer reaches of the city.