An architectural event: Arquine announce 2016 Mextrópoli pavilion designers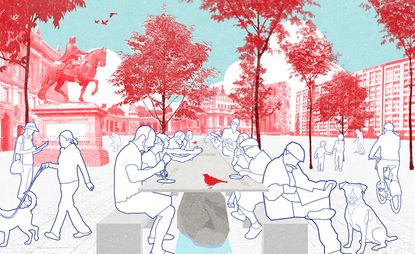 (Image credit: press)
Arquine – the Mexican platform dedicated to the culture of architecture – has announced the winners of the 18th installment of its architecture competition, which aims to address issues of global importance and support ideas holding an applied relevance to society.

This year, Arquine called for participants to conceive of a design for the Mextrópoli pavilion, destined for the titular architecture festival held annually in Mexico City. The competition attracted over 400 submissions from 20 different countries; judges included Barry Bergdoll, curator of MoMA's architecture department and Dhyana Quintanar, general coordinator at the Authority of Public Space of Mexico City.

First prize was awarded to Alan David Orozco Martínez, a young architectural collective who devised a project titled 'The boundaries of the space defined by the city. The table as a centripetal and centrifugal force'. The project, which addresses the notion that boundaries of space are defined by the cityscape, resembles a long 'pre-cast concrete' table, initiating an intimate space and provoking a sense of comfortable coexistence.

The pavilion was coined as a public space that could host dialogue and discussion during the events of the festival, while also adhering to the brief of being an 'innovative and sustainable structure' and a 'buildable and recyclable project; an architectural event in itself'. It will now travel to future Mextrópoli festival locations, becoming a physical benchmark for citizenship and architectural relevance.
INFORMATION
For more information, visit Mextrópoli's website