Architecture report: letter from South Korea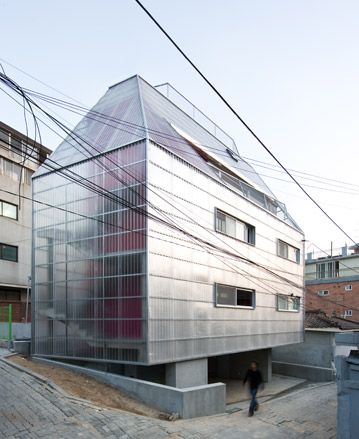 (Image credit: Park Wansoon)
Since becoming the center of Asia's fourth strongest economy, Seoul's Government has refreshed the lackluster appearance of the city through supporting private investment and funding projects of metropolitan beautification - anything to escape the monotonous apartment-block aesthetic it was notorious for. As a result, contemporary Seoul is embracing the benefits, hosting competitions that are bringing the biggest names in international design, architecture and municipal planning to transform this ancient city into a magnetic urban metropolis. Being designated World Design Capital 2010 hasn't hurt, either.
Structures such as the Leeum Samsung Museum of Art, Seoul National University Museum and moveable installation, the Prada Transformer, designed by Rem Koolhaas, have achieved international recognition. Most recently, Dongdaemoon Design Plaza and Park, by Zaha Hadid with Patrik Schumacher, have been core projects of WDC Seoul.
The Yongsan IBD Dream Hub
Unveiled at MIPIM 2010, the Yongsan IBD Dream Hub, will be connected to the newest green space 'Seoul Central Park', while the Han River Renaissance project will be another marker in the design community, featuring the Yongsan International Terminal linking Seoul to ports in China, Hong Kong and Japan. Art Island will house a concert hall, an opera theatre and a multicultural performing space that hopes to rival the Sydney Opera House. Attention is not being denied to Seoul's historically relevant buildings either with Old Seoul Station currently undergoing a highly anticipated renovation.
Smaller, avant-garde design firms are also rising to prominence in what is still a very conservative society. They offer bolder individuals the chance to create buildings that stand out in the city landscape, like ChaePereira Architects, who cater to enterprising clients that are starting to appreciate a personalized approach to design.
So was 2010 the year that Seoul emerged as a potent force in international design? By embracing current architectural innovation, the city's remodelling job is intended to lure visitors who were previously unaware of its contemporary urban charms.