Architects transform the windows of Xintiandi shopping centre, Shanghai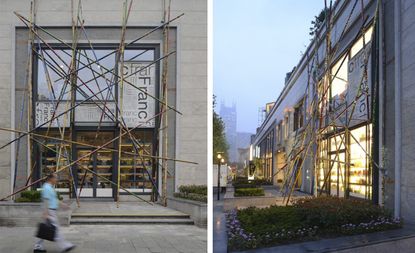 (Image credit: press)
The customers at Shanghai's upmarket fashion plaza Xintiandi don't generally come to window shop. They come to buy. But as of last weekend they've had a reason to loiter outside that much longer.

The Royal Institute of British Architects (RIBA) has partnered with the mall's developer, Shui On Land, to transform ('decorate' being a gross understatement) a strip of shop windows with statement 'art-chitecture'.

Some of the UK's highest profile architects – industry leaders like Zaha Hadid and Will Alsop, perhaps more attuned to designing iconic cultural institutions – are participating. RIBA hopes the initiative will show another side to Britain's treasured exports. At the same time, the project brings a cultural element to the retail experience.

Nine installations were unveiled on the weekend, including Dexter Moren Associates' frame of Mikado game-sticks around the façade of Franc Franc, a Japanese home-furnishings store. Agnès b.'s storefront gets a mini streetscape in towers of brick by Robin Lee Architecture. Studio Glowacka have taken on the high-end Chinese fashion designer Nisiss with a climbing frame-like clothes horse for hanging the label's current lines. And Erect Architecture built a giant, interactive weaver's loom for the South Korean lifestyle shop Hanii Y.

This is RIBA's fourth year in the window-dressing business. The previous three outings were for the Regent Street Windows project in central London, for which they made over some of the street's most enduring shopfronts, along with some international newcomers.

At Shanghai's Xintiandi, RIBA has the opportunity to raise awareness of British design on a smaller scale than, say, Foster + Partners' Beijing Airport scheme. And it's quite literally a foot in the door of China's lucrative retail industry.

The 'windows' initiative forms part of the six-month UK Now festival, the biggest showcase of British creative output in China to date – though the installations will be on site only until 11 October.