Architects Directory 2020: TW Ryan, USA
Thomas Ryan worked at well-known New York studios, including Richard Meier & Partners and Christoff Finio Architecture, before setting up shop on his own with TWRA in 2013. His striking, clean geometries have already won him the Deborah Norden Prize from The Architectural League of New York, and a Design Research Grant from the National Endowment for the Arts. His portfolio spans residential and art-related commissions, including Three Chimney House, a family home in Virginia, inspired by the land it sits on. Ryan works between San Francisco and New York.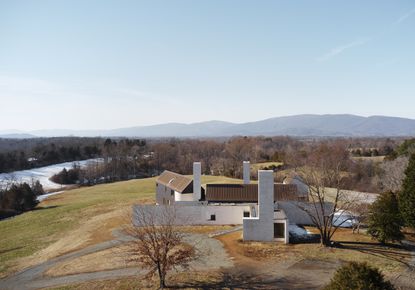 (Image credit: Joe Fletcher)
Charlottesville's historic footprint is marked into Three Chimney House. The project went into ignition the same year Thomas Ryan launched his practice, TW Ryan Architecture, back in 2013 – and its impactful and modern structure has strong roots set against the wild, natural landscape.
The client, a small young family, was keen for the narrative of the home to engage with the area's rich past. In the civil war, the project's 45 acres played host to a hospital for the wounded, while other past uses have spanned open fields for horse training and grazing, and land for a weathered hunting cabin in 1960s. Now, TW Ryan Architecture was adding another chapter to this story.
Ryan had grown up in nearby North Carolina, surrounded by Southern colonial houses, and this was a source of inspiration for the light-filled 5,800 sq ft edifice. He updates the style with contemporary touches in the shape of three defining elements: walls, ceilings and three, towering, 30 ft high chimneys. Built on grass from modernist-inspired light-colored brick, these have a lime-baked surface that will age over time, like the evolving, surrounding landscape. Meanwhile the chimneys, used to help orientate visitors from afar, are an ode to Stratford Hall, a historic house museum near Lerty in Westmoreland County, Virginia.
Copper roofs are a nod to Thomas Jefferson's Montecello that lurks nearby and windows have been placed carefully to frame the cinematic vistas of this edge of Virginia that include Shenandoah Mountains, ponds, and rolling hillsides – more contextual touches.
This spot is not far from where the Lewis and Clark Expedition took place, the discovery of America, and so any building on this land needed to be momentous. The clients requested that 'the success of Three Chimney House be measured over centuries.' Ryan's design principles achieve this in a form that aims 'to be timeless, durable and self-evident.'
MORE FROM WALLPAPER* ARCHITECTS DIRECTORY 2020 (opens in new tab)
INFORMATION
twryanarchitecture.com (opens in new tab)