Colour blast: Odile Decq renovates Antti Lovag's iconic Maison Bernard in France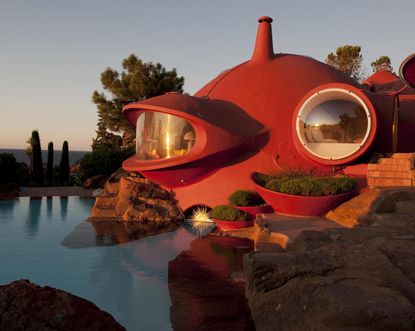 (Image credit: Yves Gellie / Fonds de dotation Maison Bernard)
Most of the spectacular work of Hungarian-born architect Antti Lovag (1920 - 2014) may have been finished at least a few decades ago, but it seems to be more current than ever. Famous for this 1970s' radical architecture, Lovag became known for his design for the monumental residence of French fashion designer Pierre Cardin in Cannes, finished in 1989. After Dior had its Cruise 2016 fashion show there, the futuristic palace – called Pallais Bulle – appeared in the real estate market at the end of last year. Now one of Lovag's lesser known houses, Maison Bernard, opens to the public after extensive renovation.

Maison Bernard in Théoule sur Mer, on the coast of South France, was the architect's first built project, which he completed in 1971 for the industrialist Pierre Bernard and his family. The house looks at organic architecture as a counterpoint against the more strict uniformity championed by Modernism.

Since the 1950s, French architects, including Pascal Häusermann, Jacques Couëlle, Jean-Louis Chaneác and Antti Lovag, have been experimenting with sculptural approaches to residential design. They wanted to combine new building technologies with a more nature-inspired lifestyle.

Fittingly, the form of Maison Bernard was shaped organically, mostly on site, during construction. A steel rod structure was covered with layer of sprayed concrete in order to create the bubble forms that Lovag is so famous for. This process allowed a certain freedom and a performative aspect to the architect's work.

The house's brightly painted concrete creates a continuous interior landscape without clearly defined spaces; rooms merge into each other. Built-in storage systems, winding staircases and integrated seating areas give the inhabitants an amount of freedom and a sense of surprise – reminiscent of natural caves.

Maison Bernard was renovated over a five-years period by the Paris-based architect Odile Decq, paying special attention to the use of colour. The interior is highlighted by different colour schemes, which fuses Lovag's original sculptural living strategy with the contemporary sensuality of South France's sun and sea.

The house is managed now by the Maison Bernard Endowment Fund and is open to the public by appointment every Tuesday from October through April and every other Tuesday in May, June and September. Each year, the Fund also welcomes an artist that stays in the house for a residency and produces art related to the inspiring natural and architectural surroundings.
To celebrate the occasion, photographer Yves Gellie has created a series of photos focusing on the building's form and colour that looks at the relationship of art and architecture.
INFORMATION
For more information on Odile Decq visit the website
Maison Bernard is open every Tuesday by appointment
Photography: Yves Gellie / Fonds de dotation Maison Bernard
ADDRESS
Maison Bernard
Port-la-Galère
06590 Théoule-sur-Mer
France