A Tasmanian house takes its cue from the wild nature of Bonnet Hill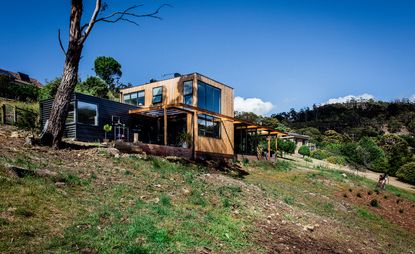 (Image credit: Adam Gibson )
Dock4 Architects' second project on Tasmania's beautiful Bonnet Hill helped the team to cement its relationship with the island, but also forged strong connections between architects, clients and the land.

Drawing inspiration from the surrounding wild nature, the architects made sure to create several conscious links between house and environment through their design. Project architect and Dock4 director, Giles Newstead, grounded the design by embedding it into the site's steep slope. The natural world was kept in focus in most living and private areas with long, northwest facing walls of, predominately, floor-to-ceiling glass. These frame striking views of the Bonnet Hill valley and its historic shot tower.
Take an interactive tour of Bonnet Hill House
A single, long Tasmanian oak step sweeps down the middle of the house, connecting two split levels, while providing relaxed seating when needed. It also establishes a sense of flow between internal and external living spaces. A similar effect was achieved with the continuous use of small, imitation convict bricks, on kitchen and deck floors. A young, flowering pear tree sprouts from the centre of one of two outside decks.

While Newstead and his clients, Erik Wapstra and Julianne O'Reilly-Wapstra, were already acquainted through their daughters attending the same school, a strong friendship between the families was ultimately discovered through a fluid collaboration that offered ample opportunity for young and old to get to know each other.

'Erik and Julianne were clear about their priorities and what they needed to support their lifestyle,' says Newstead. 'Beyond that, they were extremely flexible and open to ideas.' According to the architect, the pair did their best to allow plenty of time for the planning and construction phases, ensuring details were completed to perfection.

The pair's mutual passion for cooking and entertaining meant that a large kitchen area and ample preparation and pantry space were non-negotiable. As a result, the house's centrepiece – when not the landscape – is an impressive five metre-long concrete bench that was poured on-site.

As a result of the new friendship, Newstead has had the rare satisfaction of seeing his design not only come to life, but also enhance the day-to-day life of its inhabitants; his clients believe that the strong connection between landscape and structure has led to their daughter spending much more time playing outdoors.
INFORMATION
For more information, visit the Dock4 website.