Sophie Bille Brahe interprets the signet ring with a new initials jewellery
Sophie Bille Brahe's new initials jewellery is 'a personal way to express an eternal feeling of love'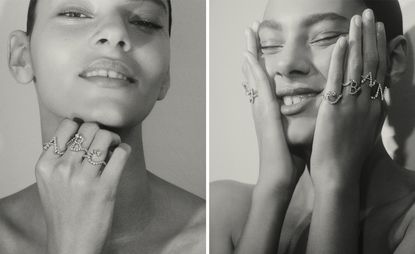 (Image credit: Casper Sejersen)
Known for her off-kilter combinations of pearls and diamonds – which sparked a new aesthetic trend and many an imitator – Copenhagen-based fine jewellery designer Sophie Bille Brahe unveils a new collection of letter designs.
Often inspired by history as well as those closest to her, now she is launching 'Lettre de Lumière', a collection of nine rings, 12 necklaces and 12 earrings. Bille Brahe's interpretation of the signet ring – which can be traced back to battle victories in Roman times and has come to symbolise family lineage – expands its remit to symbolising the initial of a loved one, be that a partner, a child, a pet, or a friend. The designer herself wears a combination of the letters: 'On my left hand I wear S,B,B as SBB is my name, S is for Snoopy, my dog, and B is for Beate, my daughter. On my right hand I wear J: for Johan, my son, and Jeppe, my boyfriend. The rings symbolise all my loved ones. I wear them every day.'
The letter designs combine Bille Brahe's own handwriting with inspirations from the famous Danish poem Alphabet, or alfabet, written in 1981. 'Inger Christensen is a European leader in experimentalist poetry, she is very dear to the Danish people. Her collections of poems are filled with melancholy, and she describes life in such a peculiar way, it is very unique. When I started thinking about the Lettre collection, I talked about it with my close friend Frederik Bjerregaard and he introduced me to the book of poems Alphabet. Inger Christensen unfolds the beauty of everyday life and makes it almost magical. I immediately found it very inspiring.'
As she doesn't use wire or moulding clay in her design process, instead she drew letters directly onto her fingers, moving them around. 'There is a Danish song that says "Let your fingers do the walking" and that's what I did. I wanted the process to be quite playful like Apollinaire's calligrams, which have always inspired me. I took something very concrete, my handwriting, and I tried to turn it into something lighter, supernatural.'
Launching on 3 Feb 2023, the fine jewellery designs will be available exclusively at Browns and sophiebillebrahe.com (opens in new tab)
Tilly is a British writer, editor and digital consultant based in New York, covering luxury fashion, jewellery, design, culture, art, travel, wellness and more. An alumna of Central Saint Martins, she is Contributing Editor for Wallpaper* and has interviewed a cross section of design legends including Sir David Adjaye, Samuel Ross, Pamela Shamshiri and Piet Oudolf for the magazine.