Titanium is lightweight, strong and edgy for Gismondi fine jewellery
Gismondi presents new fine jewellery in titan-carbon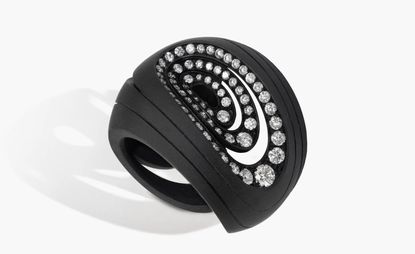 (Image credit: Gismondi)
An alloy derived from a special treatment of titanium makes a contemporary material choice for Gismondi's new collection of jewellery. 'Aura Titanium', created from a lightweight titan-carbon, makes for modern and comfortable fine jewellery. Here, CEO Massimo Gismondi tells us what excites him most about the process.
Black titanium jewellery by Gismondi
Wallpaper*: What do you enjoy about working with titanium? What are the challenges?
Massimo Gismondi: Titanium is a contradiction in that it represents historical mythology and the modern future. We are seven generations of passion designing jewellery with modern technologies and design approaches.
Titanium is an amazing metal to work in. Its superpowers are durability and weight. It is significantly stronger than silver or gold, and lighter than platinum. Titanium lends itself well to a range of types of gem-set jewellery designs.
When it has been subjected to special processes of heat treatment, we can oxidize the metal, to create an interesting and rich spectrum or colours. Treatment options can also make a flat base or it can have a highly polished finish, so it can be very versatile.
In our 'Aura Titanium', it is not simply black titanium, however. It is a special alloy of titanium and carbon which gives a permanent black colour. Just simple titanium using a galvanic process would dissipate or be removed over time with cleaning.
W*: What inspired you for this collection?
MG: Within new-age beliefs, the 'aura' and our energy field is characterised by concentric loops. In [the jewellery collection], they are both concave and convex, meeting in the middle but with no beginning and no end. I created a modern design with an architectural look and an almost hypnotic effect.
I have always been fascinated by the fact that the word 'aura' is pronounced in the same way in every language around the world and discovered that the word connects the cosmic energy, the energy field in our surroundings and the individual energy of our soul.
I decided to find a way to present and represent that movement of the interconnected circles appearing to come in and out with no beginning and no end in a bold jewellery design.
W*: How do these new pieces stay faithful to the Gismondi aesthetic?
MG: This collection is about contrast and contradiction. Mixing metals and stones – playing with unusual colours combinations. In this case, it is a play of darkness and light featuring beautiful set diamond stones, but that is not the only focal point.
Each Gismondi piece is designed to be wearable art and has a story of intimate connection in its creation. 'Aura' fits those same elements with a high attention to detail, exceptional stones and a new modern construction.
My pieces are never flat; they are multidimensional. Depth, dimension and energy of optical illusion are the most captivating features in this collection. I am always deconstructing tradition and reimagining jewels in a modern format, with visually interesting details seen from all sides. 'Aura' is no exception.
It has a sense of discovery like all Gismondi jewels, which is important. Each piece in this 'Aura' collection can be appreciated from top, bottom and each side, revealing a layer and angle from a different perspective for the wearer or admirer.
Hannah Silver joined Wallpaper* in 2019 to work on watches and jewellery. Now, as well as her role as watches and jewellery editor, she writes widely across all areas including on art, architecture, fashion and design. As well as offbeat design trends and in-depth profiles, Hannah is interested in the quirks of what makes for a digital success story.