The creative forces behind Montblanc on getting the horological details just right
Davide Cerrato joins forces with Zaim Kama as they weave the storied manufacture into Montblanc's horological masterplan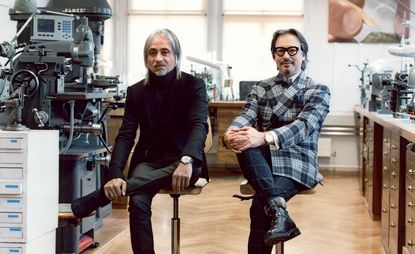 (Image credit: Albrecht Fuchs)
Montblanc's horological metamorphosis spins around the qualities this duo bring to Minerva, a small, traditional manufacture celebrated for its beautifully conceived and made chronograph movements. Cerrato and Kamal appreciate Minerva's heritage and understand how to structure collections that mix its high-end, handmade movements 
with higher-volume movements from Montblanc and more affordable options from the likes of Dubois Dépraz and Sellita. It's a design sensibility that
 refers to the past without resorting to pastiche. When we meet them in Switzerland, just before Montblanc's 2019 collection is launched, Cerrato is in a hopeful mood: 'This year's models are the culmination of a three-year evolution, from which three strong pillars have evolved — sports, classic and vintage. Some people didn't consider sports watches a natural route for us, but it's a category we need. There's a big trend for chronographs and the success at auction of watches like the 'Paul Newman Rolex Daytona' is helping to drive that.'
The focus on sports chronos is actually a smart connection to Minerva's history, and Cerrato's use of that heritage as the nucleus of each new product has given the collection its coherence, its sense of looking right. Take the new 'Heritage Pulsograph', inspired by Minerva's chronographs from the 1940s and 1950s. The pulsograph was then commonly used by doctors – as Cerrato says, 'people liked to track their health even before the iPhone'. With its 41mm dial, 
it's a bit more wearable than smaller, classic pieces.
Kamal's touch combines a vintage feel with
a stylish modernity, thanks to the use of contemporary materials such as ceramic, and the skills
of Montblanc's Italian pelletteria, with whom 
he creates straps for each piece.

In terms of fine detail, Cerrato and Kamal debate each element, from the use of Arabic numerals
to the three-minute sectors on the subdial, originally designed to track payphone-call costs. One of the more connoisseur vintage references is the domed dial. 'It gives it an emotional touch,' says Kamal. 'We never just copy from the archive, but we
 look at the successful designs from the past and then see if they might suit a contemporary expression,'
 he continues.
INFORMATION
montblanc.com (opens in new tab)