The striking water-like forms of Brazilian jeweller Fernando Jorge's new Stream collection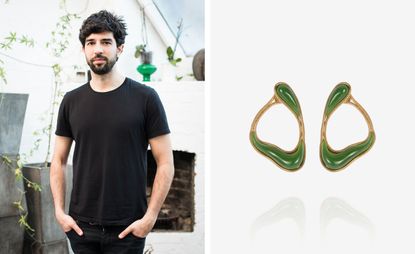 (Image credit: Mark Blower)
How satisfying when a jeweller imbues their work with a sense of where they're from. Jewellery designers from Brazil have access to rich pickings – not only in the literal and copious natural resources mined within their borders, but from the epic tropical vistas, balanced nicely with a sharp architectural and design culture. And who can deny the influence of the Brazilian clientele – a savvy, sun-kissed urbanite, happy to embellish her daywear (and beachwear) with a pair of yellow gold hoops, a playful sautoir, or soft cabochons of candy bright stones.

Relative newcomer and São Paulo-born Fernando Jorge is carving out a unique niche for himself, designing jewellery that demonstrates an innate understanding of this client base. His signature sinuous designs that hug the contours of the body, sit close to the skin, flowing around fingers, wrists and collarbones in an adept demonstration of the relationship between the corporal and inanimate. As Jorge puts it, 'my jewellery is developed with the Brazilian body culture in mind'.

Stream, his latest offering of 60 pieces, is an exploration of water as it pools and runs off skin, the gold shaped as if molten. Some pieces are only gold (a new area for Jorge) while some are set with gemstones such as orange chalcedony, opal and milky quartz, deftly carved to sit within their frames.

It's clear that Stream is a creative progression from his previous Fluid and Electric collections, but the evolution came at a price: 'Some of the pieces took several attempts and the carvings on the Stream Cycle earrings alone took three weeks to be finalised,' says Jorge when discussing the technical difficulties of the organic shapes.

Although now based in London, regular trips to his workshop in Brazil and a continual digital dialogue with the craftsmen ensured perfection of fit. 'I've gathered a comprehensive scope of body measurements in more than ten years as a designer', he says, 'and in some instances with this collection it will be necessary to make adjustments on the finished piece to fit the client or even to create a made-to-measure piece'.

Not that these labourious processes seem to be slowing Jorge down at all: 'I'm about to embark on a "world tour",' he laughs, 'visiting my retailers in the US, Puerto Rico, Turkey, Lebanon, China and finally Brazil.' While Jorge may travel far and wide to develop his brand, it seems certain his inspiration will remain much closer to his spiritual home.
Receive our daily digest of inspiration, escapism and design stories from around the world direct to your inbox