Buzz feed: the bee motif is jewellery's latest sweet spot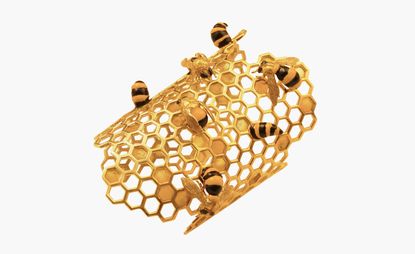 (Image credit: Delfina Delettrez)
Historically speaking, the bumble bee has long symbolised cooperation and productivity, dating back to the victorious hive of Napoleon Bonaparte. Today, the motif has been revived both in the collections of classic fine jewellers, as well as a younger crop of creatives. And unlike its sugary sweet counterpart, the butterfly, interpretations of the bee have an air of industrious grit about them – after all their harmonious hives are often used an analogy for both a successful government and society.

French maison Chaumet has featured the bee in its collections since its founder was appointed the official jeweller to Napoleon. The emblem of the insect decorated the tomb of King Childeric I, father of Clovis, King of the Franks, which had been discovered during the reign of Louis XIV, and was chosen by Bonaparte not only as a metaphor for his work ethic but also for its historical associations. Since then the bee has continuously featured in the house's high and fine jewellery creations, and most recently in the 'Abeille' collection. Chaumet's bee appears in coloured gemstones with an oval-cut body and golden wings. In its newest iterations the bee's body parts are more pronounced with double sets of skeleton wings in different shades of gold and fragile, pave-set legs.

For Delfina Delettrez, her use of the bee is distinctly more literal than the rest of her often surrealist work, with its classical form portrayed in gold and enamel. She explains that the motif is, 'much more than just decorative, it is a symbol of my work philosophy, with all the bees in the colony, coming together and collaborating'.

At Dior, bees have played a supporting role in many previous collections, however this year in the newly launched 'La Rose Dior' the emblem takes centre stage. In highly polished gold set with diamonds, Victoire de Castellane's bee is said to come from a garden in full bloom.

Moving into the fashion realm, Gucci's Alessandro Michele has also introduced the insect, this time as a new theme for the Italian brand. Michele's often gothic aesthetic can be seen in the 'Le Marche de Merveilles' collection, which mixes yellow gold hardware with bees depicted in grey diamonds set with sterling silver; a pale insect against a golden backdrop.