Silicon vallée: how digital engineering is changing the face of mechanical watch design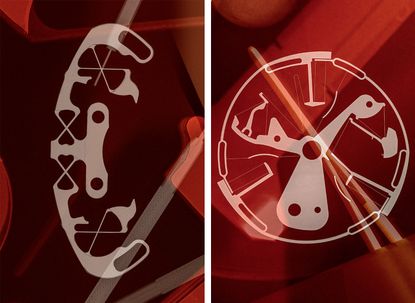 (Image credit: Peter Langer)
Modern watchmakers face a paradox: how do you make centuries-old technology both true to its traditions and relevant to the 21st century? The answer for houses such as Patek Philippe and Zenith lies in a keen eye for emerging technologies that enhance the effectiveness of mechanical watch design without tampering with its character and humanity. Just as in architecture, utility is a necessary – but not sufficient – value. Seiko was only half right with its 1970s ad campaign, advocating the game-changing era of quartz watches, when it said 'Someday all watches will be made this way'.

Today, it's not so much a power revolution as a materials drive. Silicon, or more accurately the CVD (chemical vapour deposition) process, allows miniscule components to be made to levels of precision radically finer than conventional machining can. Parts can simply be printed on a substrate of silicon and materials added or removed using reactive gases and plasma. More importantly, it has been a catalyst for new thinking.

At its simplest, replacing standard parts with silicon equivalents allows brands to offer watches that keep better time and last longer than those with standard movements, a vast improvement as after-care is an integral consideration of the mechanical watch business. Take, for example, Baume & Mercier's just-launched Baumatic movement, which keeps time to within COSC (the official Swiss chronometer testing institute) standards and comes with both extended warranty and service intervals. These enhancements are almost entirely due to the inclusion of silicon.

Now that designers can define a component's structure molecule by molecule, single parts can be designed to perform functions that conventionally require an assembly of separate parts, a conceptual leap known as compliant engineering. Think of it as making a pair of scissors from one part instead of four. In watchmaking, this means reducing the balance wheel, spring, escape wheel, pivot and anchor of the escapement assembly (usually a minimum of 24 tiny, difficult-to-machine components) to just four, three or even one whole part.

Compare that to mechanical watches relying on conventional materials for key components. They face three challenges: they need oils (which degrade over time), their rate can vary with temperature, and they need to foil magnetic fields. Silicon, on the other hand, is low-friction, isothermic and a-magnetic, properties that prompted Swiss watch brand Ulysse Nardin to pioneer the development of silicon components nearly 20 years ago, and which lead to the launch in 2001 of the Freak watch. The Freak showcased silicon's potential, and the technology has since been gradually adopted across the industry, the time taken reflecting the need to prove absolute reliability.
Watch movement designers have also been quick to spot that the silicon manufacturing process allows them to experiment with new geometries. Patek Philippe's latest Oscillomax escapement system features a balance spring now subtly stiffened at each end, allowing it to oscillate evenly in every orientation.

These components can be profoundly different from their conventional equivalents, as Girard-Perregaux's Constant Force oscillator shows. It's built around a thin, curved blade designed to buckle as it absorbs energy and then snap back, delivering precise impulses into the mechanism. Zenith's entry into the field is the brainchild of Guy Sémon, general director of TAG Heuer, in partnership with the Technische Universiteit Delft, one of the leading research centres in this field. Zenith's oscillator is a single part, frictionless silicon component that will maintain a constant frequency from the watch's fully wound state to the end of its 60 hours power reserve, a feat that conventional watches can only approximate with elaborate compensation mechanisms.

But unlike the very real threat that quartz posed to the watch industry, in this case, the opposite is true. Major brands such as Omega, Rolex and Patek Philippe, all of whom supported initial research into silicon, have taken the thinking behind silicon and applied it to more conventional materials, prioritising proven reliability over novelty: Omega's calibre 8900 combines both approaches to produce a watch that will run with better precision than standard in almost any conditions with much extended service and warranty benefits.

Perhaps the most interesting stance is that of Patek Philippe. Innately conservative in its approach, the in-house Advanced Research team has to balance pure utility with the watchmaking culture that the brand is built around. But, says Frédéric Maier, the team's deputy director, 'They may be harder to design and make, but compliant mechanisms use less parts and in smaller volumes, which means greater reliability.'

Last year, Patek Philippe showed an Aquanaut Travel Time watch fitted with a 'compliant', singlepiece mechanism that adjusts the GMT indication. This needs to transmit, store and change the direction of impulses from the pushers, a complicated task that conventionally would require 15 or more components, with half needing lubrication. Surprisingly, it's made in steel using traditional techniques, with a 150 micron clearance between the cross bars that wouldn't have been conceivable just a few years ago. This is just a demonstration of how the technology might be applied in the future; you can easily imagine more complex assemblies, though, as Maier adds, 'our job is to make a better Patek Philippe, not just a better watch'.

As originally featured in Precious Index, our Watches & Jewellery supplement (see W*230)
INFORMATION
For more information, visit Patek Philippe's website, the Zenith website Girard-Perregaux's website
Receive our daily digest of inspiration, escapism and design stories from around the world direct to your inbox
James Gurney has written on watches for over 25 years, founding QP Magazine in 2003, the UK's first home-grown watch title. In 2009, he initiated SalonQP, one of the first watch fairs to focus on the end-consumer, and is regarded as a leading horological voice contributing to news and magazine titles across the globe.