Shahla Karimi's Subway collection is inspired by the city that launched her jewellery career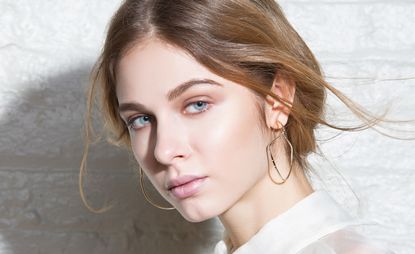 (Image credit: Shahla Karimi)
When Shahla Karimi arrived in New York from Kentucky in 2004 her mother dropped her and her friend off in the middle of Times Square with a laundry basket. 'She said, "call me when you're ready to come home,"' recalls Karimi, who took the subway to stay with a friend of a friend in nearby Jersey City, New Jersey.

Karimi never called her mother. Instead, she got a job in artist merchandising with Warner Music Group, eventually landing a gig as director of merchandising for the Obama Campaign, where she ran Runway to Win, a line of apparel and accessories curated by Anna Wintour and the CFDA. Despite working in fashion, eventually doing production for Shopbop, Karimi took up metalsmithing classes at the now-defunct 3rd Ward in Brooklyn.

Karimi made jewellery for herself and her friends and two years ago, she took the plunge and went full time to launch her eponymous line. 'There's something really romantic about New York City and I just wanted to capture that idea and concretise it, and I get all my ideas on the subway anyway,' said Karimi. 'So I was actually on the subway and I was looking at the lines, and I was like, I wonder what those would look like, and so I made them in CAD.'

Shahla Karimi debuted in 2014 with the Subway series, tracing three of New York's subway lines and turning them into sterling silver rings that could be stacked as the wearer pleases, or worn individually. Editors were immediately drawn to the delicate, yet edgy rings that Karimi initially mapped out on CAD.

The Subway Series has since evolved into a collection of five lines — Inwood to World Trade Center, Harlem to South Ferry, Yankee Stadium to Wall Street, Upper West Side to Lower East Side, and Broadway - City Hall to Central Park. Karimi also expanded into making necklaces, a lariat, hoop earrings and studs, working with recycled 14 carat gold and ethically sourced diamonds, the white diamonds representing express stops and black diamonds representing local stops.

Shahla Karimi consists of earrings, necklaces, rings, cuffs and more in sterling silver and 14 carat gold, using precious and semi-precious stones from diamonds and sapphires to lapis and turquoise. 'I'm designing for the romantic intellectual,' said Karimi. 'They care about where things are made, how they're made.'

Always attracted to telling a personal narrative, Karimi also has a collection that maps out the waterways of Paris, and this autumn, she'll debut a line that shows the sound waves from iconic movie lines. She also makes custom jewellery upon request. 'How cool would it be to get your grandmother's destination ring that mapped where she met your grandpa and you're wearing that?' she muses.
INFORMATION
For more information, visit Shahla Karimi's website