Rado reveals the winner of its Star Prize US 2018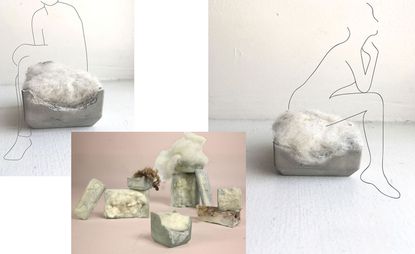 (Image credit: Susannah Weaver)
From an ottoman made of a single piece of leather pinched into folds by brass bolts, to a reflective cycling helmet that mimics the iridescent scales on a butterfly wing, the entries for the Rado Star Prize US 2018 were a diverse set. The Swiss marque, known for its experimental approach to materials and use of ceramic in watches, stipulated a theme of 'Design Inspired by Nature' for this year's competition.
Caroline Kable, a furniture designer from the Rhode Island School of Design, entered her Argillite series: a collection of raw stone steps mounted on machined steel bases that ascend incrementally, ready to be climbed up, or simply used as stools. Janine Wang's Snug Stones, tactile chairs covered with needlepoint felt, are upholstered with garden gate springs that create a shifting motion when sat upon.
Several entries bought flora indoors: Do Yoon Kim's wall-mounted vegetable leather vases, crafted in moulded leather and set into shape with a technique once used to harden leather armoury, are designed to hold dried flowers. Maryam Turkey created Glowherbs for spaces with limited natural light – acrylic sheets lit by a UV LED lamp function as a planter to help herbs grow more quickly.
The winning design was Parsons School of Design graduate Susannah Weaver's Felted Concrete, chairs of cement layered with curls of sheep's wool. To make each one, wet concrete is poured into a mould, and raw wool that has been sheared, carded, and spun is scattered over, following a warp and weft pattern. The heat rising up from the freshly-mixed concrete contributes to the natural felting process of wool, allowing the fibres to contract and lock together. The result is a series of solid geometric blocks that appear to dissolve into ethereal clouds of fluff.
INFORMATION
Rado's Star Prize US 2018 is held in collaboration with NYCxDESIGN and WantedDesign. Its ten finalists will display their work in an exhibition as part of NYCxDESIGN, which runs until 23 May. For more information, visit the Rado Star Prize website.