Peiming Song translates Chinese food culture into jewellery
Our Next Generation 2022 showcase shines a light on 22 outstanding graduates from around the globe, in seven creative fields. Here, we profile jewellery design graduate Peiming Song, from Central Saint Martins, UK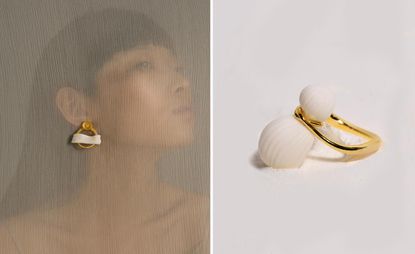 (Image credit: Xinyi Huang)
Peiming Song translates both the traditions and the sensory experience of Chinese food culture into jewellery. Her 'Sugar Melon' collection pays homage to the patterns within the cooking process, drawing textured silhouettes in porcelain and gold-plated silver. Forming fluted curls and sculptural forms, her pieces consider both traditional artefacts and contemporary design.
Wallpaper*: What traditions do you pay tribute to with these pieces?
Peiming Song: My work aims to pay tribute to the food culture in Chinese traditional folk art. Sugar melon is a unique folk snack in Shandong Province, China. When I was a child, sugar melon was regarded as children's favourite candy during the traditional Chinese Spring Festival. This series aims to preserve some beautiful details in the process of food making in traditional Chinese folk art in the form of jewellery. These details come from my good memories of sugar melon, including the texture, taste and flavour of the food itself, and from the small details in the food making process. I reproduce these details in my work, hoping to share my understanding of traditional food culture with more people.
First of all, I save the beautiful details in the production process of sugar melon in the form of videos or images. Then in the creation, I think about how to package these details and restore them to the jewellery design itself. I tried to use new materials to recreate the surface texture of sugar, and use precious metals and gemstones to show smaller details such as pores and sesame seeds. Finally, I combined 3D-printed ceramics with precious metals, and in this way, these details were reproduced in my jewellery.
W*: What designs inspired you?
PS: At first, furniture design inspired me. When I decided to use traditional metal combined with 3D-printing ceramics, I tried to find a suitable way to perfectly combine the two materials until the day I noticed the mortise and tenon structure in Chinese traditional Ming Dynasty furniture. Mortise and tenon structure is a splicing method to realise the combination of different parts through exquisite design structure and the tension of the material itself. Taking this structure as a reference, I combined two parts of different materials and finally completed the design of the 'Sugar Melon' series of works.
W*: Why did you want to work with porcelain?
PS: The matte texture of white ceramics brings a warm touch and a comfortable visual feeling. This feeling is the same as the positive impact that food can bring to people. Secondly, ceramics themselves belong to an important part of food culture.
W*: What challenges did you come across in the making process?
PS: The application of 3D-printing ceramics in the jewellery field belongs to new materials and new technologies, which is a challenge for the production of works. First of all, the production cycle of the work was longer than I expected. This was mainly due to the immaturity of new technology, especially in the production of some complex shapes. Sometimes, a work needed to undergo repeated manufacturing operations, about eight times during printing. Secondly, the combination of the two materials required precise calculations. However, sometimes the size of the ceramics in the firing process was out of my control, which required me to carry out many attempts to complete it.
W*: How would you define your aesthetic?
PS: I can define my aesthetic in three words: concise, quiet and interesting. Of course, my aesthetic is bound to change within a certain range, which is affected by my cultural background and learning experience.
Dream collaborator: Kevin Germanier
INFORMATION
Hannah Silver joined Wallpaper* in 2019 to work on watches and jewellery. Now, as well as her role as watches and jewellery editor, she writes widely across all areas including on art, architecture, fashion and design. As well as offbeat design trends and in-depth profiles, Hannah is interested in the quirks of what makes for a digital success story.