Hear out: the brands giving a haute spin to sound accessories
Boucheron, Vibe Harsløf, FandD and Planet Beyond are bringing fine jewellery finesse to hearing devices and headphones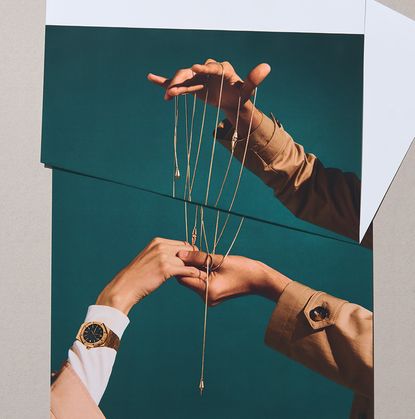 (Image credit: Kayser & Schmuck)
We're all ears when it comes new jewellery trends, and a host of tech-savvy designers are making their voices heard with creations that touch on our constant need to digitally plugged-in. AirPods and headphones have become our unconscious adornment of choice, and as we come to rely on these sound devices more and more, so our jewellery must adapt and assimilate. Here we present four labels bringing a haute sensibility to our daily hearing aids.
Boucheron
The historic French maison's 'Jack' necklace gives fine jewellery a playful character, and an easy-to-wear sensibility. A spin on the ubiquitous earphone connector, the fabric-like feel of the 18-ct yellow or white gold spiral-wound chain gives it a decadent haute-fashion spin, in turn making the usually hidden claps the focal point. 'Jack' is designed as a uniform length but it can easily be adapted, click by click, for use as a bracelet, necklace or belt.
Vibe Harsløf
'It's really interesting how earphones have become part of everyday dressing, almost alongside wearing shoes or a coat,' says Vibe Harsløf. There's something subtly humorous behind the Danish jeweller's designs, which include a recent collaboration with Japanese label Facetasm, on bracelets resembling bottle openers, earrings dangling with packets of pills and studs resembling the faces of wide-eyed aliens. For her brand's WE collection, wireless ear phones have been transformed into jewellery, and are festooned with clusters of pearls or long strands of chain. 'Pearls are the quintessence of classic conservative jewellery and originally a very rare and valuable item reserved exclusively for the rich, which makes an interesting contrast to the sleek modern design of the ear buds.'
FandD
Flora Fixy and Julia Dessirier, founders of product, accessory and set design studio FandD and Kate Fichard, were the winners of the Grand Prix du Jury Accessoires de Mode Swarovski at 2018's Hyères Festival of Photography and Fashion. The trio were awarded for Auditive Jewellery a series of bangle-inspired and functional hearing aids. 'From that moment a thrilling investigation started into identity, empowerment and the idea of designing a fashion accessory that reflected sociopolitical issues and elevated the body and mind,' Fixy and Dessirier explain.

As part of its win, FandD had the chance to work with famed French jewellery house Goossens - one of Chanel's Métiers d'Art workshops - which has created catwalk jewellery for Yves Saint Laurent, Dior and Peter Marino-designed fixtures for Chanel boutiques worldwide. One of their collaborative creations is the Anti Noise earring, a moon-shape 3D-modelled ear bud which silences sound. Its ombré lacquer hue nods to the ocean landscape, and references hearing impaired Fichard's comparison of deafness with being underwater. 'The earring appears on the air like a lightweight, shiny creature, with orbits which are ample and gracious,' Fixy and Dessirier explain.
Planet Beyond
'Tech products and human bodies are so intertwined today,' says Lorin Gu, one member of the collective Planet Beyond, a group of MIT & Harvard graduate scientists & designers, whose newly launched wearables have a jewellery-focused flair. These earphones are crafted from recycled metals, and feature petals which trace the curvature of the ear. 'Everyone wears the same headphones, air pods, and has the same mobile phones,' Gu says. 'Big brands also perpetuate a very male-centric design perspective. 'We're trying to present an alternative.' In his research process, Gu looked to the costumes in the futuristic drama Westworld, set in a Western amusement park. 'The show presents a vision of how technology can evolve, in a beautiful way,' he says. Planet Beyond have a world of wearables planned for the near future, including a tech enabled bracelet with an odorising perfume function and tech enabled glasses.
INFORMATION
uk.boucheron.com (opens in new tab)
fandd.studio (opens in new tab)
vibeharsloef.dk (opens in new tab)
planetbeyond.com (opens in new tab)