Industrial reflection: Repossi's OMA-designed Place Vendôme store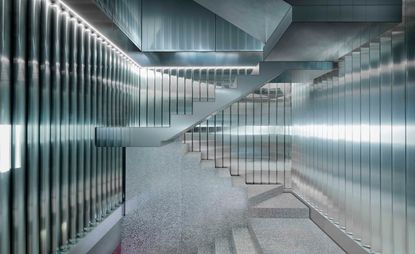 (Image credit: Cyrille Weiner)
Upon entering Repossi's steely Parisian jewellery box, what is immediately clear is that this is a retail store like no other. Donald Judd furniture is placed in-situ. Linear display cases are cut from reflective slats that rotate like high-tech vertical blinds, while the salt and pepper terrazzo floors are a mix of foaming aluminium and resin. The industrial metal also covers the store's walls, while overhead lighting takes the form of grid-like LEDs that feel slightly biblical in their intersections, à la Tadao Ando's Church of Light. Spread over three floors, the tactile boutique is a retail revelation.

Wallpaper* spoke to Gaia Repossi about the long-awaited opening…

W*: Your work has always held such a strong architectural element. What qualities were you looking for from an architectural firm, and what did you find in OMA, Rem Koolhaas and Ippolito Pestellini Laparelli?
GR: I work with systems partially, where solutions repeat a little like architecture. When I thought of working with them, my partner (the artist Jeremy Everett) introduced me to their world, and I discovered this desire of tabula rasa (Latin for blank space), rethinking the existing on a much wider sphere with a very intellectual and didactic approach, which fascinated me. They look for unconventional associations just like us. I remember reading Rem's Junkspace and appreciating his criticism towards alienating spaces that we lately constricted our society into. Where profit alienates any form of expression. I remember him also pointing at the importance of shopping in our society as an integrant part of it. Rejecting at the same time branding, and rethinking it as no branding. My desire was to create an experience for the client in addition to imagining a new environment that would stand out.

What were your central aims for the space, which clearly puts scale at the forefront?
When I first met Rem two years ago now, he looked at the jewellery, looked at me and said, "This is architecture." We confronted scales and laughed about micro versus macro scale, [in] the field of jewellery (in which OMA had never worked before) and in Place Vendôme, and he took on the challenge very warmly. With the shop being very small, we were all very curious to see them working on such a small scale. Within this first interview with Rem, he also said, "Gaia had no choice but to reinvent jewellery." It struck me. Now the task was to imagine its environment, its world. Ippolito and his team worked with us for almost a year and a half on just the concept.

Display is just as important as space when it comes to presenting jewellery. What was your approach here?
OMA, Rem, Ippolito, they all work macro, and when it comes to jewellery we had to balance a very loud language to allow the jewel to have its own narrative as well. We are not showing art, we are showing a product. It's much more difficult I think because it's much more restricting.

Talk us through some of the unexpected materials that have been used in the store, and the feeling that you wanted to create with them?
We had more then 12 material samples created especially for us and used probably six. From resin poured into metal foam (our version of their commonly used terrazzo); transparent mirrors; specific gradient mirrors created with a custom palette for Repossi (a blue one that grades black, a peach one that grades red); a resin wall envisaged by Rem's famous resin craftsman with a colour that has been created for us; and of course, concrete, and semi reflective aluminium panels. Ippolito created entirely this palette with us, and now that the store has come together, I see that it matches the colours of my own jewels. It's a great feeling – to read the correspondences in both languages of two entities that meet and combine.

The store has a raw beauty that's also very polished in materials and execution. What were some of your key references?
My favourite references in Rem's work have always been the more brutalist ones of his early 1990s work. I like its masculinity, and it's one of my favourite environments. We associate our jewellery and all the femininity it wields with this androgynous, rough woman. Hopefully we will surprise our clientele and audience.
Repossi explains, 'When I first met Rem [Koolhaas] two years ago now, he looked at the jewellery, looked at me and said. "This is architecture." We confronted scales and laughed about micro versus macro scale, [in] the field of jewellery (in which OMA had never worked before) and in Place Vendôme, and he took on the challenge very warmly'
'OMA, Rem, Ippolito, they all work macro, and when it comes to jewellery we had to balance a very loud language to allow the jewel to have its own narrative as well,' she continues. 'We are not showing art, we are showing a product. It's much more difficult I think because it's much more restricting'
Repossi states, 'My favourite references in Rem's work have always been the more brutalist ones of his early 1990s work [...]. We associate our jewellery and all the femininity it wields with this androgynous, rough woman. Hopefully we will surprise our clientele and audience'
The store project marks another special collaboration between creative and artistic director Gaia Repossi and OMA, Koolhaas and Laparelli, who also worked on Repossi's Dover Street Market Haymarket space together
OMA partner Laparelli explains, 'The collaboration with Repossi has exposed our office to the unprecedented exploration of the extra small scale, a universe as vast and complex as the usual – large – architecture domains'
Repossi concludes, 'With Gaia we have taken the serious challenge to reimagine how space can reinforce jewellery, trying to blend the boundaries between display and architecture; in our collaboration we have tried to develop projects that question conventions, through the introduction of unexpected materials and languages and by using architecture as a medium to show, observe and experience jewellery in a multiplicity of new ways'
INFORMATION
For more information, visit the Repossi website (opens in new tab)
Photography: Cyrille Weiner courtesy Repossi
ADDRESS
Repossi
6 Place Vendôme
75001 Paris
VIEW GOOGLE MAPS (opens in new tab)