Paris plumes: feather motifs tickle the fancy at Dior high jewellery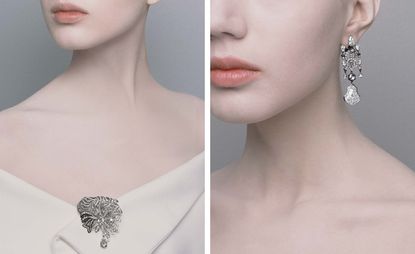 (Image credit: TBC)
As artistic director of Dior (opens in new tab) Joaillerie, Victoire de Castellane has never shied away from the alternative. So her latest stone of choice, and an enduring favourite, is the opal. It is, she says, 'like seeing the earth from afar, the oceans, the archipelagos, and the reflections of stars on the ocean waves'. It is now also the central stone in her latest Dior et d'Opales high jewellery collection: it's the dial on watches, the pivoted covering on hidden timepieces, the key stone in bracelets and necklaces, and nestled in a bed of gold and diamond feathers in the 'Petit Panache' ring.

Those feathers also work to broaden the theme of the recent Dior à Versailles collection in which de Castellane looked to the royal palace to create ornate baubles Marie Antoinette herself would have savoured.
Dior à Versailles.

'I imagined a Versailles at night where the jewels sparkle in the candlelight,' she explains. Every detail, from the stones to the metal she set them in, was carefully thought through. 'The oxidised silver – it was the only white metal at the time – helps create a mysterious universe where black metal mountings disappear into the night to give the illusion of sparkling stones floating in the air,' she says.

The decorative arts of the palace interiors (the late 18th century style also inspired Mr Dior's own couture house decoration) threw up many design references: from ornamental mouldings, to bows, ribbons, parquet floors, chandeliers and curtain tiebacks. De Castellane 'had fun de-structuring them. The reflected lights between the chandeliers and mirrors in the Hall of Mirrors is reinterpreted by the diamond marquetry drop and the various shapes and cuts of the diamonds,' she says. 'The contrast of black and white, the geometry of the diamonds and the asymmetry of the garlands make the "Galerie des Glaces" necklace a graphic and de-structured piece of jewellery with a contemporary rock look.'

And, of course, there are feathers: this time, ostrich feathers from the king's bedchamber adorned with diamonds on the 'Balustrade' ring in the Appartements de Mesdames theme, on the 'Salon d'Apollon' brooch or the 'Double Panache' rings.
INFORMATION
For more information, visit the Dior website (opens in new tab)