Contemporary design dominates Paris Couture Week's multifaceted fine jewellery presentations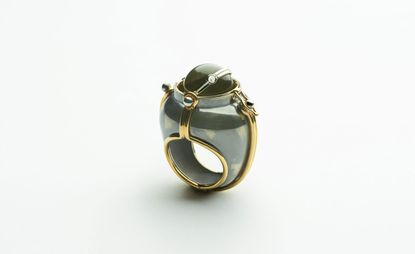 (Image credit: Katrina Israel)
Despite no shows from usual participants Dior, Chaumet and Louis Vuitton, as Paris Couture Week's first jewellery schedule of the year unfolded, an intriguing mix of names, aesthetics and new approaches shone through. The Place Vendôme may have been quieter than usual, but it allowed new ideas at high jewellery houses - Boucheron, Chanel, Bulgari and De Beers, among them - to be clearly heard. Fringe exhibitors, such as Maison Margiela, Dauphin, Elie Top (pictured), and Dina Kamal added a frisson of excitement with their elegant mishmash of contemporary and fine jewellery collections, on show throughout the week. The upshot? A new era of creative confidence and an overall sense that jewellery is finally breaking free of the all-round 'accessories' label that so often obscures its design status. Here's our pick of what we saw...
Boucheron: Couture houses make no bones about the fact they are keen to engage younger buyers. The fine jewellery world is also gearing up to entice a new generation of wearers. But rather than just head down a more fashionable design route, a savvier approach is to rethink the consumer experience. To that effect, last week Boucheron launched its new Ring Bar boutique concept - a series of Serpent Bohème rings formed around the twisted chain of its benchmark Serpent motif, in various materials, from entry-level price up. Some highly wearable sautoir necklaces added to the casual vibe, while a small collection of exceptional jewelled serpents in exaggerated form served to remind us of Boucheron's status as a jeweller extraordinaire.
De Beers Jewellery: With a new showroom on the Rue de La Paix, De Beers Jewellery pronounced its intention to become a regular fixture on the Couture Week high jewellery schedule. It's a welcome addition, not least because its 28 year-old head designer, Hollie Bonneville-Barden, delivers ever more confident one-off pieces suggesting a healthy allowance for creative thinking from her bosses. The curving, swirling forms of these white gold and 4.7 carat diamond Sirocco earrings have a relief effect rooted in classic jewellery but with a freer expression. Moving up the ear, they present a fresh alternative to the ubiquitous ear cuff.
Bulgari: The Mediterranean colour clash so typical of the Roman jeweller's sensual approach can often veil the mathematical, graphic sensibility of its signature classical influence. Here, the clean line of these pink-gold earrings is beautifully accented by two elongated, trapezoid cut fancy pink opals. The rounded amethyst and rubellite beads add perspective, while two round brilliant-cut diamonds settle the eye.
Maison Margiela: Nothing is ever quite what it seems at Margiela and the house's Line 12 fine jewellery offering is no exception. Titled 'Metamorphose' Margiela's second bijoux collection after a five-year hiatus continues its unorthodox approach that previously saw the traditional solitaire engagement ring sliced down the middle. Casting the mundane elastic band in gold, the crossing lines of this collection's organic shaped rings, bracelets and earrings behold an ephemeral beauty in their slightly off-kilter, swaying figure.
Elie Top: The man responsible for Lanvin's riotous runway jewels has launched his own fine jewellery house in Paris to much acclaim. Top's debut collection 'Mécaniques Célestes' unites his love of costume jewellery's bold statement-making power with the intricate mechanics of exceptional fine jewellery. Dedicating his first big bang to cosmogony, Top worked with kinetic metal spheres that concealed or revealed his precious stone globes inside. Whether hung from a chunky pendant chain or suspended as a statement ring, these one-of-a-kind orbs were then circled by a star galaxy of diamonds. Fusing the geometrical and Baroque, Top's ambitious architectural approach is quite simply out of this world.
Dauphin: Newcomer Charlotte Dauphin de La Rochefoucauld's burst onto the fine jewellery scene last year with her inky blue gold and sculptural silhouettes, and has since cemented her place in this rarefied world with a second collection that toys with broken geometries. Just as circles are cut open on her floating rings, de La Rochefoucauld's lattice cuffs pertain a similar graphic quality with each piece's open weave set in gold and pavé diamonds.
Dina Kamal: Pure and simple never looked so alluring in jewellery form than it does in the work of Dina Kamal, the Paris-London based designer and architect. Kamal is focused on the notion of creating precious objects and is fascinated by jewels and the history they carry. Yet there is no literal reference or ornamentation in her pieces. Rather she settles on traditional jewellery forms - such as the signet ring - and realises them with a wholly contemporary, architectural aesthetic. Her softly contoured 18 carat gold Coin rings are all the more compelling in that they are worked from beige gold, devoid of the high shine of rhodium plating.
Chanel: It's been just over two years since Chanel opened its own state-of-the-art workshop within its Place Vendôme headquarters, and the house's high jewellery collections have continued to grow in size and complexity ever since. The house's latest presentation, titled 'Les Intemporels de Chanel', was a melange of timeless symbols from Gabrielle Chanel's design lexicon that also united the house's key high jewellery collections of the past few years referencing her comet, star, ribbon, camelia and lion icons. This 'Ruban' brooch or hairpiece - after all Chanel maintains its founder's modern approach to fine jewellery's wearability - is set with 4.7 carats of brilliant cut diamonds, and is a sparkling example of how the fashion house continues to dazzle with its savoir-faire. The ribbon famously first appeared in Mademoiselle Chanel's original (and only) 1932 high jewellery collection and continues to inspire the house's onsite design team today.