Cartier reinvents its Paris Nouvelle Vague collection with perfectly formed new volumes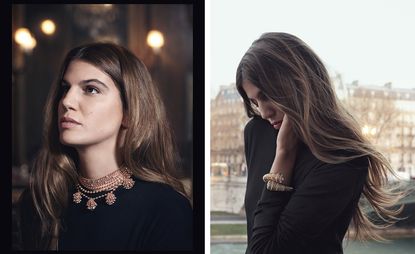 (Image credit: Vincent Wulveryck)
How to pull in a younger audience and establish brand loyalty from an early age? This conundrum is a continual obsession for jewellery houses, who know that building from the bottom up is the key to longevity, forever chasing that commercial sweet spot of repeat custom.

It was 1999 when Cartier first launched Paris Nouvelle Vague – a fine jewellery collection aimed at capturing this younger client base. Pretty shapes, unusual facets with a hint of architectural flair, and occasional uses of enamel and hard stones such as lapis lazuli characterised this early offering. It is now in its third incarnation; looking back at the previous two collections it's clear to see today's selection, in design terms, has gathered significant pace.

Comprising over 17 pieces, its overriding theme is volume, whether perfectly formed paved and hammered gold bonbons hanging from gold dot chains, or waves of metal fashioned into cuffs and rings evocative of the ripples of the Seine, and lined with red enamel – as sexy and, for Cartier, as risqué as a Louboutin sole.

A standout cuff and bracelet formed of a cage-like grid of gold is redolent of so much: the bridges of the Seine, the iron work – girdles and struts – of the Eiffel Tower, the soaring metal work of the Grand Palais, rendered like a piece of mini-engineering and executed with customary Cartier precision. This bold new style has, undoubtedly, been born out of a new manufacturing method; just as the rediscovery of the lost wax method revolutionised jewellery shapes some 30 years ago, bringing a new found volume and freedom (shapes and details could be initially carved in wax and then cast, rather than chiseled directly into metal which often produced a flatter design), so the use of CAD and 3D printing has allowed this unencumbered design process.

Interestingly, Cartier are pushing these boundaries in a fine jewellery collection, perhaps knowing that a younger clientele are the perfect testing ground for a new aesthetic, and that they are hungry for a point of difference (the success of the relaunched Juste un Clou, Cartier's gold nail collection, is testament to this). Now the hope is these techniques move up the design chain and that its impact is seen within the more conservative high jewellery sector before long.
Receive our daily digest of inspiration, escapism and design stories from around the world direct to your inbox