Cartier creates a series of vitrines telling the tale of the Tank watch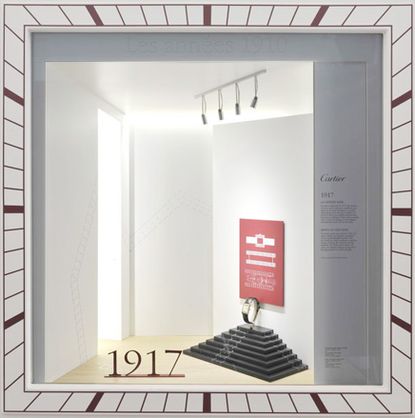 (Image credit: Tim Griffiths for Cartier)
Cartier always does things, well, Cartier style, and it's a style we most definitely like. Take the brand's show-stopping window display at this year's SIHH watch fair in Geneva: made up of a series of exquisitely designed miniature box rooms, it retold the history of one of the world's best-loved watch designs - the Cartier Tank - in a most compelling way indeed.

Complete with mini lighting rigs and carefully chosen props, these diminutive Cartier set designs were so beautifully realised that when we heard some of them were coming to a venue near us, we just had to ask for an exclusive view. And last week we got our chance as Cartier brought the exhibition to London for the worldwide launch of the Tank Anglaise at the Orangery in Kensington, London.

The Tank watch, created in 1917 at the height of the Great War, makes for a perfect visual retelling. It was one of the first major wristwatch designs - as avant garde as they come for a world more used to pocket watches. Even more intriguing is the fact that its shape is actually derived from an armoured tank: inspired by a top-view sketch of the war machine, Louis Cartier mirrored its utilitarian form and clean, definite lines to produce his little machine for the wrist.

The prototype was presented to an American commander as a thank-you gift, just after the war ended. Subsequent models, such as the Tank Folle, Tank Cintrée, Tank Chinoise, are too numerous to mention, as are aficionados of the watch, who have included Gary Cooper, Ingrid Bergman, Alain Delon and Andy Warhol. Needless to say, its cross-century appeal nods to its credentials as a timeless twentieth-century design.

The new addition to the line - the Tank Anglaise - represents Cartier's strong presence in London since the second World War, and makes up a triumvirate of city-inspired Tanks, including 1980's New York-homage, the Tank Américaine, and the 1996 Tank Française, celebrating the brand's Paris home.
Receive our daily digest of inspiration, escapism and design stories from around the world direct to your inbox