The Fondation Cartier launches an all-star exhibition programme in honour of its 30th anniversary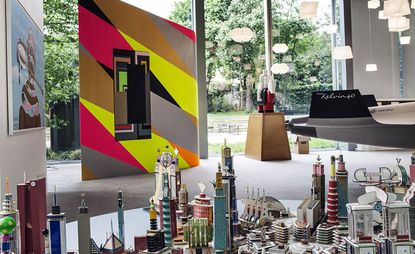 (Image credit: press)
The Fondation Cartier for Contemporary Art (opens in new tab) in Paris is what the French would call sans pareil (or second to none). Though an offshoot of the deluxe jewellery brand, it exists in a sort of splendid isolation from its parent, as no artist who collaborates with the Fondation is ever allowed near Cartier's product development department.
Instead, the Fondation is there to lend the brand's cultural collateral through its impressive commissioning of new work and a collection that now comprises over 1,300 pieces from artist Richard Artschwager to photographer Francesca Woodman.
This year it's 30 years old, and there's plenty to celebrate with the new exhibition, Vivid Memories, which makes the most of the Fondation's insistence on blurring boundaries between design, music, film and fine art. Jean Paul Gaultier made dresses from bread here in 2004, and the Velvet Underground spontaneously reunited for a quick gig in the grounds of its previous home, the gorgeous Chateau of Jouy-en-Josas (opens in new tab).
Currently Marc Newson's satin-finished Kelvin 40 prototype plane appears to have skidded into the ground floor gallery and nearly missed a dazzling new collaboration-by-email between the diminutive Italian octogenarian Alessandro Mendini (designer of the famously large and multi-coloured mosaic-speckled Poltrona chair) and British painter Peter Halley - a towering block decorated in the pulsating colours that Halley frequently uses and Mendini adores. Issey Miyake's delicate paper lanterns flutter overhead. In another room, Ron Mueck's vast sleeping woman induces vertigo, thanks to its utter defiance of normal scale.

Exhibits will rotate throughout the show's run, while one-off events will pop up all summer, including a night time introduction of the bats who live in the Fondation's beautiful stepped gardens, designed back in 1994 by artist Lothar Baumgarten. It will be led, on 12 July, by Patti Smith, another polymath who has a long and intricate relationship with the place. The exhibition program is also accompanied by a beautifully produced anniversary tome, published by Thames & Hudson, and host of other printed materials.
It turns out the company's perfume division does inhabit a few floors of the Fondation's perfectly transparent building, designed by Jean Nouvel in 1994. But not that you'd know it. Here, the art most definitely rules.
ADDRESS
Cartier Fondation (opens in new tab)
261 Boulevard Raspail
75014 Paris, France
VIEW GOOGLE MAPS (opens in new tab)