Brazilian jeweller H Stern celebrates seven gilt decades with a travelling gold show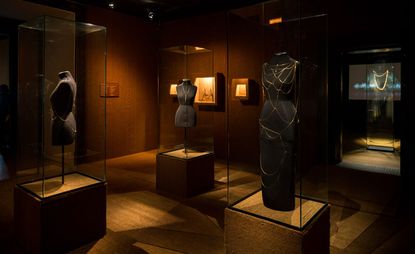 (Image credit: press)
H Stern turns 70 next year and to celebrate, the Brazilian jeweller has chosen to host a glittering gold exhibition at the Centro Cultural Banco do Brasil (CCBB) in its native Rio de Janeiro. Ouru - Portugese for 'gold' - explores the connection between the precious metal and the arts in the form of 30 unique works by Brazilian artists, including sculptors, painters, photographers and conceptual artists.

Eleven rooms are linked via 330m gold thread, representing H Stern's 'Fluid Gold' necklace design. Several of the exhibiting artists have collaborated on collections with the jeweller, including Oscar Niemeyer who joined famously joined forces with the brand in 2011 for a collection of architecture-inspired white and yellow gold pieces. One whole room is dedicated to these diamond-studded, contoured earrings, rings and bracelets, which mimic the organic, curving lines of Niemeyer's sketches.

Works on show throughout the other rooms are derived from varying disciplines, but are all inspired by that single, gleaming material. 'Some works are essentially conceptual and work with gold as a metaphor, straying from its material properties,' says curator Marcello Dantas. 'Other [pieces] create a dialogue with the material and its unique softness, colour and conductivity. But all the pieces on show are ultimately interested in the role of gold in our society.'

Highlighting H Stern's unique collaborative bent, on show are necklaces inspired by Corpo Escola de Dança, the Belo Horizonte contemporary dance company famed for reinterpreting traditional Brazilian dance forms. The group's collaboration with the Brazilian jeweller began in 1992 with a collection of gold earrings and rings in subtle, hammered finishes. Named after the company's ballets, they were inspired by the shapes of the dancers' moving forms.

Other pieces include sibling designers the Campana Brothers, who have created a densely fringed gold stole using 80,000 strands of 18-carat gold thread. A gold necklace-dress composed of a chain that drapes lightly around the body is also a must-see. The next fortnight is the last chance for visitors to see 'Ouro', which finishes on 5 January 2015 before travelling to London.
ADDRESS
Centro Cultural Banco do Brasil (opens in new tab)
Rua Álvares Penteado, 112
Sao Paulo
Brazil
VIEW GOOGLE MAPS (opens in new tab)