Visit Istanbul's architectural gems, best restaurants and a historic bathhouse
A design lover's tour of Istanbul – from restored architectural treasures to an experimental cocktail bar, a luxurious Turkish bath, and the city's best kebabs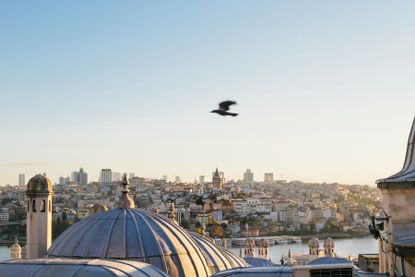 (Image credit: Photography: Deniz Yılmaz Akman )
Istanbul is confounding and enthralling, with a multitudinous past and a vivacious present. Ambitious architectural projects, such as the soon-to-open Istanbul Modern contemporary art museum designed by Renzo Piano and the Istanbul Museum of Painting and Sculpture by Emre Arolat, are propelling the city forward.
Five of Istanbul's most eminent chefs, who have been defining modern Turkish cuisine for years, received their Michelin stars in 2022, expanding the city's fine dining scene to international fame. And on the down-low, Istanbul is also facing its past with the Miras (Heritage) project by the Istanbul Municipality, which has been actively restoring abandoned historic structures, from Ottoman fountains to dilapidated neoclassical apartments, and turning them into public cultural spaces.
Here, for our design-led tour of Istanbul, travel writer and author of the guidebook, The 500 Hidden Secrets of Istanbul, Feride Yalav-Heckeroth shares some of her favourite discoveries from her favourite city.
What to do in Istanbul: a design lover's guide
Florya Atatürk Marine Mansion
A structure that rarely makes the list of popular Istanbul sights, Atatürk's secret summer home in Florya is a Bauhaus dream that seems to float above the sea. Built in 1935 by the Turkish architect Seyfi Erkan, who worked with Hans Poelzig in Berlin, the house served as a getaway for the first president of the newly formed republic. Nowadays, the sea mansion is a museum, with its impeccable Bauhaus furniture as well as personal belongings and photos of Atatürk on display; a real journey back in time. Another nostalgic experience awaits a few steps away in Beyti, the city's best kebab restaurant, inside a stunning brutalist structure from the 1970s with Ottoman-inspired details by the renowned Turkish architect Yılmaz Sanlı.
turkishmuseums.com (opens in new tab)
@beytilokantasi (opens in new tab)
Cendere Sanat
Part of the Istanbul Municipality's Miras restoration project, the former Cendere Hamidiye Pumping Station – built in 1902 to provide water to around 100 fountains around the city during the Ottoman era – was restored to become the Cendere Sanat art gallery and cultural centre. In its garden with a historic plane tree, a glass pavilion, created by the Istanbul-based firm Zemberek Design, features a modern café with a sunny outdoor terrace.
@cenderesanatmuzesi (opens in new tab)
@ibbmiras (opens in new tab)
Kutnia
Aiming to revive kutnu – a traditional silk and cotton blend fabric from Gaziantep once worn exclusively by the Ottoman sultans – Kutnia was established in 2017 by Jülide Konukoğlu. Working alongside designers Günseli Türkay and Selen Şahin, the sustainability-focused brand creates both modern ready-to-wear womenswear collections as well as home textiles. With every bit of fabric produced by master Gaziantep artisans, Kutnia's luxurious collections are rich in colour as well as craftsmanship.
kutnia.com (opens in new tab)
@kutnia_official (opens in new tab)
Mürver
Overlooking the Bosphorus and the historic peninsula, Mürver is Michelin Young Chef Award-winner Mevlüt Özkaya's gastronomic sanctum, where ingredients from the Turkish land and sea are prepared on an open-flame wood-fired grill. The octopus in ash with sumac, isot pepper and sour pomegranate, and the Trakya kıvırcık, slow roasted lamb shoulder with smoked firik wheat, spicy apricot compote and salted yogurt have become classics, as have the restaurant's signature cocktails.
murverrestaurant.com (opens in new tab)
@murverkarakoy (opens in new tab)
Anatolian Craft
Inspired by a pair of hand-embroidered shoes that she found in her grandmother's antique wedding chest as a child, architect and designer Bilge Can founded Anatolian Craft in 2016 to create her own wearable heirlooms. The brand's collection of slow fashion shoes, handmade from kutnu fabric, are hand-embroidered by talented female artisans from Anatolia. Each built-to-order pair is one-of-a-kind with colourful motifs of flora and fauna expressing timeless elegance.
anatolian-craft.com (opens in new tab)
@anatoliancraft (opens in new tab)
Fahri Konsolos
Hidden away on a busy bar street in Kadıköy, one of Istanbul's best cocktail bars is an experimental affair, where unexpected ingredients come together to create unforgettable concoctions. Mixologists Burak Ayaz, Eren Sönmez and Engin Baysal serve up such cocktails as the Mardini, an amalgam of gin, sumac pomegranate molasses and parsley, or the Leb-ü Derya, composed of mezcal, beetroot shrub, mustard sprouts and agave nectar.
@fahrikonsolosluk (opens in new tab)
Six Senses Kocataş Mansions
Built in the second half of the 19th century, the Turkish-Ottoman Sait Paşa and Kocataş Mansions were restored by Six Senses to become one of the city's most unique accommodations. With interiors designed by the famed Zeynep Fadıllıoğlu, the historic heritage mansions have unencumbered views of the Bosporus from their rooms and suites, offering guests dining, spa treatments, private boat tours and strolls through the hotel's more than two acres of landscaped pathways, a rarity in the crowded Turkish megacity.
sixsenses.com (opens in new tab)
@sixsenseskocatasmansions (opens in new tab)
Çukurcuma Hamamı
Dating back to 1830, this historic Turkish bath became famous in the 1990s, when it was featured in the Italian-Turkish director Ferzan Özpetek's celebrated film, Hamam. After closing in 2007, the historic structure underwent an extensive period of renovation, reopening in 2018 with a more luxurious demeanour. Çukurcuma Hamamı offers the traditional Turkish bath experience with its body scrub, bubble wash and massage in a more refined and private setting, complete with a relaxation period in the lounge with tea and dried fruits.
cukurcumahamami.com (opens in new tab)
@cukurcumahamami (opens in new tab)
Wallpaper* City Guide: Istanbul
Find out more in the Wallpaper* City Guide to Istanbul, £8.95, phaidon.com (opens in new tab)
Feride Yalav-Heckeroth is a freelance travel writer based between Istanbul and Bodensee. Her writing has been published in Kinfolk, Brownbook, Travel + Leisure, CNN Travel and Conde Nast Traveler. She's also the author of her own guidebook, The 500 Hidden Secrets of Istanbul.