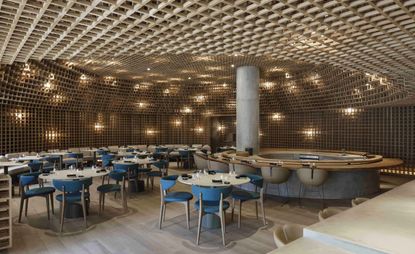 (Image credit: Kosushi )
South of Fifth, the quiet enclave at the southern-most tip of Miami Beach has become an important dining destination in recent years, even more so with the arrival of Michelin-star winner Kosushi.
Owners Carlos Carvalho and Chef George Yuji Koshoji have applied the same formula in 'SoFi' that has earned them decades of success in São Paulo: exquisite Japanese cuisine with a touch of Brazilian flair, alongside interiors by Arthur Casas, who revamped the original Kosushi in 2000 and again in 2017.
Here, Casas has crafted a world unto itself. The entire space is enveloped in tens of thousands of hollow, white oak cubes assembled using ancient Japanese woodworking techniques, with accent lighting that gives the restaurant a celestial feel.
These gorgeous cubes completely define the space, arranged in a sensual curvature that almost defies their geometry. The custom perimeter banquette and sushi bar echo this organic shape, and the furniture adds colour. As do the vibrant locals.
INFORMATION
ADDRESS
801 South Pointe Drive, #105